"Succeeding in the mission": Amador Girls Who Code hosts 2022 summit 
On February 26, the Amador Valley Girls Who Code (GWC) club spent their Saturday hosting the 2022 Girls Who Code Summit, an event that introduces young girls the basics of coding.
"Part of the summit that's really impactful is recognition of students for their work, and it's not just for the highest quality work, but girls who are working with inspiration, girls who are working with creativity, girls who show strong leadership; those are the kinds of recognition we give out throughout the summit, and hopefully that will lead to more kids being interested in continuing on with this career path," said Mr. Kiyoi, Girls Who Code club advisor.
 It started when the officers put together a one-day summit on March 7, 2020 with high school student mentors and female industry professionals to introduce the fundamentals of coding, problem solving, design, and development of software to young girls. Following their first summit in 2020, this marks the second year the Amador Valley GWC chapter officers have hosted the summit.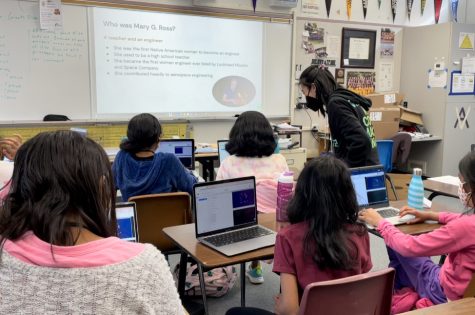 "We first hosted this event in 2020, right before the pandemic hit, and we had over 90 girls come in. It told us that they were interested in [computer science], and with the opportunity that we were giving, they wanted to learn more. Today, we only have 30% of girls signed up for computer science courses in Amador, and we want to help improve that," said Anusha Maheshwari ('22), President of Amador Valley Girls Who Code.
After seeing the success for the Girls Who Code Summit within elementary and middle school girls, the Amador Valley GWC Chapter continued to host the summit in 2022 with the theme being Women in STEM. As more than 160 young girls attended the event on February 26, the process of hosting this event proved to be challenging as the amount of sign-ups were more than they had expected.
"We had a lot of difficulties. But the most significant one was finding sponsors who could help support the overwhelming response we received in the number of sign-ups we had. Oftentimes, my officers and I walked around to different stores downtown, pitching to them, but often were asked to wait for longer periods of time. But with the support of my planning committee, we were able to pull this off," said Maheshwari.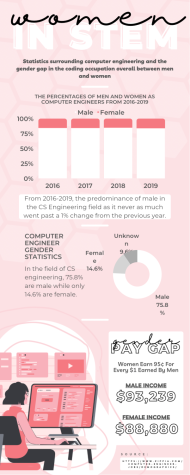 Weeks before the summit, the GWC officer team were planning every small detail to ensure the best experience for the girls: volunteers, mentors, orientations, slideshows, sponsors, lunch, ceremonies, and gift bags. Many GWC officers and volunteers are proud to be a part of this journey to pass down the same passion for computer science.
"I signed up to volunteer at the GWC Summit because I wanted to give other young girls the opportunity to fall in love with coding the way I did. Since elementary and young middle school kids are not exposed to conventional programming until they are much older, they miss out on the fun aspects of coding they would've experienced as a young kid. I hope that I can inspire younger girls to have fun with coding and explore projects without pressure. In the end, I just want to help girls find a safe space to explore their passions," said Aditi Pattanshetti ('23), Publicist of Amador Valley Girls Who Code.
Due to the increase in sign-ups for the summits throughout the years, Amador Valley GWC were set on providing all the participants with help that they need to learn. And through the amount of volunteers for the summit, the student to teacher ratio was small as many volunteers additionally participated in orientation meetings that the GWC officer team planned ahead of time to prepare the volunteers with knowledge of Python Turtles and the projects to later teach the participants during the summit itself. 
"All the orientation meetings were informational and helpful for me. There were small details and information that I would have not known or most likely forgotten. Especially the python project.py command and some other important information," said Meghana Kumar ('24), volunteer at the Amador Valley Girls Who Code Summit.
The event lasted the whole day from 8:30 a.m. to 4 p.m. at Amador Valley High School as some mentors, like Maheswari, were runners who went from room to room for checkups and additionally made sure of a punctual schedule. And other high school mentors and volunteers were divided into eight rooms as they taught materials ranging from beginner to advanced depending on the skill level of the participants.
"
By holding these events, AV GWC is succeeding in the mission to close the gender gap in technology and to change the image of what a programmer looks like and does. And I am proud to be part of it."
— Anusha Maheshwari ('22), GWC Club President
"The summit itself was an unforgettable memory, but watching all of the girls come together was definitely the highlight of my experience as a lead mentor. After the teams were finished with their projects… the girls were so excited to share ideas for designs and drawings featuring the woman in STEM of the room… It was a truly inspiring experience to see all of the girls working together to apply their creativity, not only to coding but an original idea of their own," said Sherry Long ('23), Vice President of Administration of Amador Valley Girls Who Code.
The efforts of all who helped in the hosting of the GWC Summit were returned with many bright responses from the young girls and a renewed sense of responsibility to continue the initiative to bridge the gender gap and to expand the interest of young girls in computer science.
"Having faced resistance in my own pursuit of computer science, it has become my goal to provide more learning opportunities for those who face similar pressures. I never touched coding until my freshman year in high school, so through volunteering for the summit, I wanted to show girls how fun coding can be and give them the access and support to explore the field of technology from a young age," said April Gong ('23), Secretary of Amador Valley Girls Who Code. 
Amador Valley Girls Who Code will continue to host these summits in the future as they hope to expand their reach through creating middle school branches of GWC for young girls to start early on their journey in finding an interest in computer science to later pursue the subject in high school as well.
"After holding three summits, more than 75% of our club includes underclassmen. And a lot of them have joined us after being part of the summit and we are seeing a steady rise in the number of girls taking APCS. By holding these events, AV GWC is succeeding in the mission to close the gender gap in technology and to change the image of what a programmer looks like and does. And I am proud to be part of it," said Maheshwari.
Leave a Comment