All the Girl Scout cookie flavors ranked
It's that time of year when Girl Scout Cookies are being sold again. However, this time, alongside the usual flavors, they have also released a new one called Adventurefuls. With a brownie-flavored base and caramel sea salt topping, these cookies are sure to be a delight. 
In case you don't get the chance to try out their wide array of flavors, we've made a ranking for you featuring every one of their locally sold options. 
9. Lemon Ups
These crispy lemon cookies are not only tasty, but are also engraved with inspiring messages such as "I am a leader" or "I am strong." This is a perfect option for lovers of all lemon-flavored desserts. However, I usually prefer this flavor in the form of cake instead, and that's why it's at the bottom of my list.
8. S'mores
Love the combination of marshmallow, graham cracker, and chocolate but unable to head to an actual campsite? These crunchy sandwich cookies have got your back. They do a good job satisfying any s'more cravings you may experience. Despite this, I still believe they taste best authentically made by the campfire. 
7. Do-Si-Dos
The first thing I noticed about these oatmeal sandwich cookies was the crunchy exterior and rich peanut butter filling. The flavors pair with each other well, but it may be overwhelming for some people if you don't absolutely love peanut butter. They are definitely a solid option though, especially if you want something quick to satisfy a sweet tooth. 
6. Toffee Tastic
Rich, buttery cookies filled with bits of crunchy toffee? What could be better? Although these cookies looked promising (plus they were gluten-free!), they were slightly hard to eat, as the majority of the toffee stuck to my teeth and the cookie itself significantly crumbled with only a few bites. These yummy cookies can easily be made at home as well, with a simple shortbread base and the addition of either store bought toffee or even a homemade recipe. 
5. Adventurefuls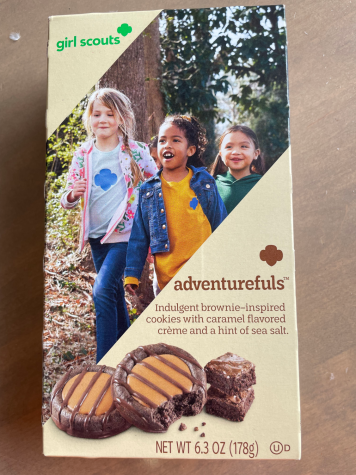 Give it up for our new flavor! With a rich cocoa flavor and creamy caramel topping, these brownie-inspired cookies did not disappoint. They are a bit heavy though, so make sure you don't indulge in too many at one time! If I could make one suggestion, it would be to add more flaky sea salt on top, but other than that they were delicious.
4. Trefoils
Ah, the classic vanilla shortbread. Don't get me wrong, these buttery cookies are definitely tasty. However, it's easy to bake them at home as well, with only a few ingredients and a lot less sugar. In your free time, try it out yourself before committing to Trefoils as your go-to Girl Scout cookies! For instance, just check out the following recipe!
3. Tagalongs
These crispy cookies coated with chocolate and layered with peanut butter are definitely the best peanut-flavored Girl Scout cookie. The variety of different flavors and textures blend together nicely, leaving you with a perfect bite every time. Not to mention, one box comes with 15 entire cookies! Tagalongs are also a bit reminiscent of Reese's, but with a slightly richer peanut butter chocolate combination (which is one of the best by the way). 
2. Samoas
The coconut flakes on these cookies can be a potential point of contention, but in my opinion, they make a wonderful topping. The toasty flavor balances the sweet chocolate and caramel drizzle well, creating a unique taste that's hard to stay away from.
1. Thin Mints
Finally, our number one! Thin Mints are an addictive combination of mint and chocolate, so light and refreshing that you may be attempted to eat an entire pack in one sitting. And if it's up to me? I say go for it. You only live once, right?