Baking & Pastry students create gingerbread houses from scratch
In the midst of the holidays season, Judi Morton's Baking & Pastry students in C-5 have completed a festive final project to conclude the semester: making gingerbread houses entirely from scratch.
"[In this project] students engineer, they design, they create, they make their own gingerbread, and then they have to assemble. It's a lot about time management, organization, teamwork, and skill. This is something they have worked over two weeks, and the success of finishing a project like this is really a boost for their skill level," said Baking and Pastry Teacher Judi Morton.
Although making gingerbread houses may sound simple, Mrs. Morton's students followed a multi-step process in order to complete their edible projects. All of the steps incorporated professional culinary skills that demanded perfection. 
"The culinary art skills that they use are first of all, they have to "mise en place," which means having everything in its place. They measure, so they have to have accurate measuring, all the fractions and math that go with baking, and then science; creating the bread combination of ingredients, and then rolling it out properly into the proper thickness and dimensions," said Morton.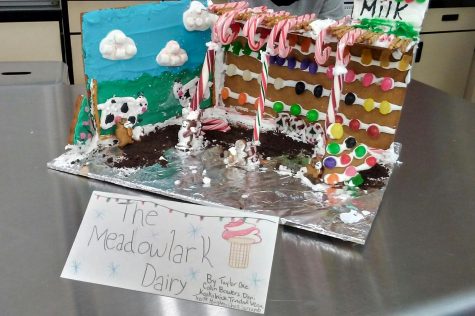 However, with such little room for error, the students faced many challenges in the midst of crafting and decorating their gingerbread. Over-baking could leave the gingerbread burnt, making the house too large could topple supports, and excess fat in the icing could ruin the structural integrity. 
"[The hardest part was] getting the roof to stay up. Because the roof is like an overhang, it's a lot of weight and it fell twice when we were making it. The roof broke before we even put it on, so we had to ice it together, and it fell twice afterwards, but we eventually got it to stay," said Baking and Pastry student Trent Hughes ('22).
Unlike a final exam that requires memorization, this project gave students a chance to unleash their inner creativity and collectively create something to honor the holiday season.
"Compared to previous years' [finals], it's a lot better. Everyone can kind of just hang out, [and] it's really fun," said Hughes.