"Easy Peasy, Lemon Squeezy": Amador senior's tech organization empowers minorities in STEM 
Out-of-place. Intimidated. Isolated. As the level of diverse representation in STEM remains low, these feelings continue to grip minorities pursuing careers in math, science, and tech fields. Citro Tech, the brainchild of Amador senior Marina Lee ('22), strives to change this status quo and make the pathway to the STEM industry "easy peasy, lemon squeezy."  
Founded in the summer of 2020, Citro Tech came about after Lee's transformative experience at the AI4ALL virtual camp held by Arizona State University. She remembered being shocked upon discovering how only 45% of high schools in the United States offer computer science courses and women make up less than 14% of all artificial intelligence researchers.
"I wanted to address the lack of diversity in the tech field and inspire more people to pursue tech," said Lee. "[Then] I decided to start an organization to bring a lot of people together and provide free resources and opportunities to all students, regardless of where they live and their financial status."
"
I wanted to address the lack of diversity in the tech field and inspire more people to pursue tech… [so] I decided to start an organization."
— Marina Lee
Citro Tech holds various workshops and events that teach students a wealth of tech skills and knowledge, from getting started in coding to different careers in tech. They also have a bi-monthly newsletter geared towards high school students that introduces new tech internships and opportunities available.  
"An amazing and unique thing about Citro [Tech] was that [it is] actually able to teach high school [students] about computer science while developing a passion in them for tech," said Citro Tech student ambassador Amina Tajammal. 
Of the past events held, Lee feels the most proud of Citro Hacks, a hackathon launched in June 2021. By far the most ambitious and challenging project Lee's ever overseen, the hackathon included over fifteen workshops, guest speaker events, and game tournaments to participate in. 
"[Since] it was my first time ever planning an event like [Citro Hacks], [and it had] so many different aspects about it, we started planning almost six months beforehand," said Lee.
Taking Lee's idea from the drawing board to reality required jumping through various hoops, from getting company sponsorships to arranging the final hackathon schedule. But, coordinating with her executive team proved to be the most challenging. 
"Our team consists of students from all over the country so it was hard to prioritize which tasks to do," said Lee. "We have school breaks and final exams on different weeks, so it wasn't like 'oh this week assign more work or less work.'"
In the weeks leading up to the hackathon, Lee struggled to plan for Citro Hacks on top of all her school responsibilities. Fortunately, the endless support from her friends and family kept her going. 
"They helped me promote the hackathon to all their friends and clubs they're part of, and supported me emotionally as well," said Lee. "Without my friends and family, Citro Tech definitely wouldn't be as successful as [it is] now."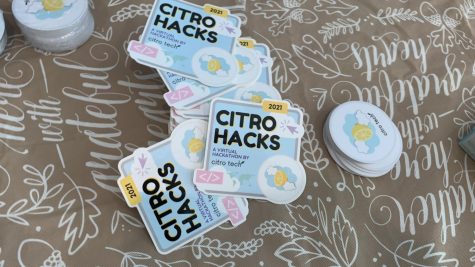 In just little over a year, Citro Tech has reached over 100,000 people from 44 states and 85 countries. Their Instagram account boasts over 1000 avid followers. And Citro Hacks last summer saw the attendance of 831 different students. But to Lee, the highlight was realising she could make a difference and help other students.
"The first time I read through all the feedback form responses, I just felt so 'wow,' like I didn't know I could make such a great impact on everyone," said Lee. "One attendee even personally messaged me on Discord [thanking me], and I just felt so wholesome I was able to help people from all over the world."
---
Lee's own passion for computer science stems from her first encounter with code in middle school with Get Magic, a mentorship program that matches women engineers with young girls. From her mentor there, Lee learned the basics of coding in Python, and had the opportunity to tour the Google headquarters. From then on, she was hooked.
"I remember being [at Google headquarters] and thinking that I could really see myself working there [in the future], so that was one of the things I did that really inspired me to do computer science," said Lee. 
She's grateful for the positive role models in her life who motivated her to continue programming, despite the wide gender gap in the field. Lee especially admires Fei-Fei Liu, the co-founder of AI4LL, who also featured as a guest speaker at the summer camp. 
"I found her really inspiring [and] I could really relate to her since she's an Asian woman in AI, [so] I feel like our identities kind of match," said Lee.
"
I really like computer science because of its potential impact on the world, and [how] I'm able to help the communities that I really care about."
— Marina Lee
Now, with Citro Tech, Lee hopes to empower minorities by giving them inspirational role models in tech fields they, too, can relate to. For those uncertain about stepping into the STEM world, Lee offers two pieces of pertinent advice.
"Don't care too much about what other people think… [and] try to surround yourself with people who support you," said Lee. "Don't compare your own accomplishments with other people [and] believe in yourself." 
As for where Citro Tech is headed in the future, Lee's excited to continue establishing their initiatives and perhaps make Citro Hacks an annual global event. She hopes to pique more interest in STEM and coding for students all around the world. 
"With code, there's really a lot of room for creativity and there's just so much stuff you can do, like designing websites and apps, and solving social issues," said Lee. "I really like computer science because of its potential impact on the world, and [how] I'm able to help the communities that I really care about." 
Leave a Comment