I've submitted my college apps, now what?
As the school year dips into the second quarter, seniors have been working tirelessly to finalize and submit their applications and essays to various colleges.
 "I would say that [the most challenging aspect of college apps is] that there is a sheer amount of stuff to do; I didn't expect the application's requirements to be so detailed and it's just really time consuming to do," said Ryan Co ('22).
With so much at stake for each submission, each part of the application had to be perfected to the best of the student's ability. However, this hasn't come easy for many upcoming senior applicants, simply due to the tedious nature of the application process. 
"On Common Application, they give a place for you to list some activities you do, and for each you have to have name and description, and number of hours per week and weeks per year, and it's hard in general to recall everything," said Co.
Applications pushed applicants to their limits, managing schoolwork along with writing and submitting a seemingly countless number of essays.
"The most challenging aspect of my college application process was definitely filling out the extracurricular portion of most of the applications. I really had to look into myself into what I thought was important and what I did throughout my high school [years]," said Kibum Kim ('22).
What can be done to ensure a better future college experience?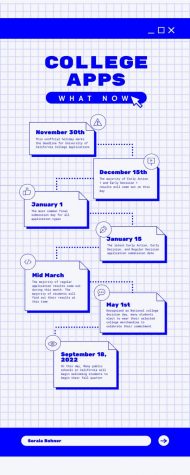 First off, scholarships. They help with one of the most important but stressful aspects of the college experience: tuition. Coming out of the pandemic, many families are facing financial adversity when it comes to paying their students' tuition. 
Scholarships come in many names, but an important application that students should complete to solidify their chances of receiving any form of scholarship or loan is the FAFSA (Free Application for Federal Student Aid), open from October 1 to March 2. 
The FAFSA determines the extent to which a student qualifies for college funding, and is a great way to apply and possibly receive scholarships from thousands of all kinds of organizations. 
In addition, search engines such as scholarship.com offer students an easy-access method to research possible collegiate financial opportunities, ranging from athletic to academic performance scholarships.
"I think that scholarships should be really helpful during this pandemic to many families that really struggled, because from what I heard a lot of workers lost their jobs during the pandemic which would have made a big impact on many families in our school," said Kim.
With colleges and universities returning to in-person learning, many campuses are facing dorm and housing shortages. For instance, the University of California system failed to meet housing needs when the semester started in August: more than 900 students at UC Santa Barbara were still looking for housing in September, and as many as 5000 students at UC Berkeley were not accommodated for housing before fall classes started. 
These shortages are caused, in part, by pandemic protocols limiting the number of people sharing dorms and apartments, and also the increasing number of total in-person students at many college campuses. In order to ensure satisfactory housing, seniors should check in with their colleges and apply for housing as early as possible after receiving acceptance letters from respective colleges. 
The road to college is challenging and students will often face many difficulties in the process. However, these challenges can be overcome with the help of support from friends, family, teachers, and scholarships providing financial aid.