Latino Club celebrates Día de Los Muertos with Altar of the Dead
Emma Ka, Staff Writer
November 1, 2021
For many of us, October 31 is memorable because it reminds us of Halloween, trick or treating, lively parties, and boundless candy. However, for others, it marks an evening of preparation for November 1, which holds much more cultural significance. 
"This tradition dates back three thousand years to pre-Columbian Mesoamerica for rituals performed to honor the dead, and it still remains today," said Yazmin Martinez ('23), president of the Latino Club.
Known as Día de Los Muertos or the Day of the Dead, it is celebrated by Mexican and Latin American cultures in order to honor loved ones who have passed away. The belief is that through altars or shrines arranged with symbolic objects, images, and gifts, lost souls will be able to find their ways back home. Latino Club set out to create an altar to celebrate Día de Los Muertos, and it was placed around the corner of the M building. 
"[The altar] is decorated with marigold flowers called cempasúchil. It's believed that the petals of these flowers serve as a trail that will lead the spirits of our ancestors to the altar built for them," said Martinez.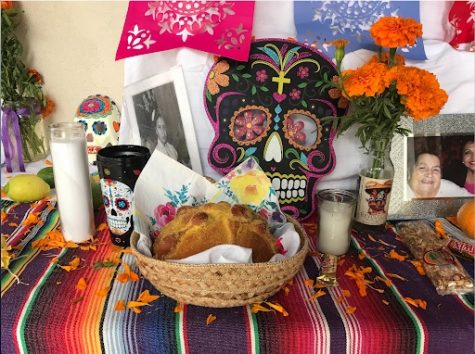 Other objects include framed portraits, which evoke the memory of the relative who passed away, and paper flags, which represent the lightness with which the souls move. Religious elements may also be added, such as images of the crucifix, Virgin Mary, and patron saints. The colors displayed on the altar also hold important cultural meanings in addition to creating a vibrant and picturesque setting. 
"Purple represents grief and mourning, pink means celebration, red is the blood of life, and white is for purity and hope," said Martinez. 
Barbara Henríquez and Martha Acebedo, the organizers of the event, understand the importance of passing on cultural customs to the younger generation. 
"I can see the tradition the parents have given the kids, and they will give it to their kids. They really enjoy it, and it's part of their culture. In Mexico, it's very important, it's festive, it's happiness. It's something they will carry and learn forever," said Acebedo. 
In addition to this, Señora Henríquez believes in not only teaching her Spanish classes through textbooks and classroom activities, but also through real life experiences. On November 1st, Henríquez brought her students in classes Spanish III and V to observe the Altar of the Dead.
"The altar was very cool. It was well done and had personal meaning to it. Learning Spanish culture adds a sort of extra layer that makes the language a bit more meaningful," said Aayush Gupta ('22). 
Expressing the diverse cultures of our student population is very important, and we hope to continue seeing these kinds of celebrations unfold in the future.