Culinary Art students create lunches for school staff
Teachers looking for a tasty new place to grab lunch might want to check out classroom C-5, where Amador Valley's very own culinary students are dishing up and selling freshly-prepared meals everyday.
"They cost ten dollars for the teachers to purchase. We are not selling them to students yet. It comes with a drink of their choice and the meal itself," said Alisa Ebel ('22).
Culinary teacher Judi Morton emails out a Google form each week where teachers can fill out what they want to order from the menu.
"Whenever it comes to lunch, we usually have around 20 to 30 orders from teachers, and then teachers will sometimes order cookies, and that will usually be around one to two orders of 40 cookies," said Ria Wadmark ('22).
This program started at the beginning of the school year as a way for the culinary class to raise money for new equipment and field trips. The enterprise also offers students hands-on experience on cooking meals from scratch for customers and giving them an inside look on the responsibilities of a caterer. 
"[My favorite part of the program is] just being able to cook because it is what I want to do after high school, so it is nice to be able to get the experience now cooking for other people," said Allison Vincent ('22).
Culinary students tend to have some prior knowledge under their belts, with most taking prerequisite classes to build up their cooking skills. Walking into C-5 during period 3, their skill is clear to see, with students donning chef coats and preparing to craft another food creation. 
"I have previously taken two classes which have been culinary skills and culinary arts," said Vincent.
These lunches have been popular among the teachers, and as a result, the catering students have been busy keeping up with the large amount of orders that have been flowing in. The students are undeniably learning lessons about the stresses the catering business can bring as they continue serving up orders.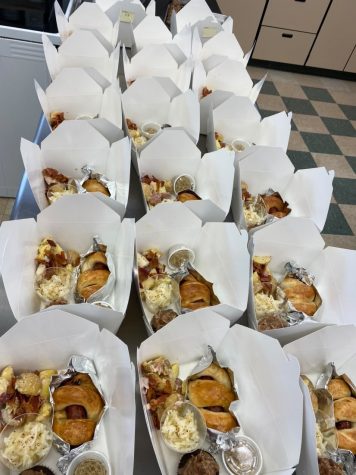 "One of the biggest struggles we faced so far is just having enough time to complete such big orders. Especially since we have been out of school for almost two years, it's hard to find new supplies and just kind of get back into the groove of things," said Wadmark.
Some of the favorite meals the chefs have made so far include their Italian cuisine. These recipes challenged the students and took them around two days to prepare.
"We have made a calzone with tomato sauce, pizza dough, cheese, pepperoni, and salami. We handed those out to the teachers with a salad and a nice dessert," said Mara Walls ('22).
This week, the culinary students are selling an Oktoberfest meal to celebrate the fall season. 
"Today we are making sugar cookies, but the rest of the class is making bratwursts," said Ebel. 
Teachers like Julie Foley enjoyed the meal, calling it one of her favorites of the year.
"My favorite meal so far was the Oktoberfest meal, which came with a pretzel bread-wrapped sausage and potato salad with bacon and a German chocolate cupcake," said Foley.
So teachers, next time you are craving a sweet and savory meal, support the culinary students by buying one of their handmade meals, and as for students, well, here's hoping the menu is opened to us soon as well.
Leave a Comment