Physics teacher Bree Barnett Dreyfuss awarded the AAPT Winter Fellow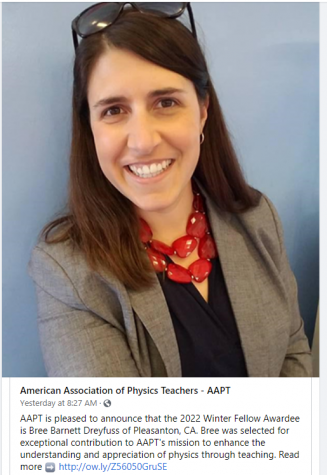 The American Association of Physics Teachers (AAPT) awarded Amador physics teacher Bree Barnett Dreyfuss a fellowship last Thursday.
"The award is a great honor because of who nominated me and the other fellows I know. I was lucky enough to be part of several physics teachers groups during my career and there are quite a few rockstar physics teachers in the Bay Area. When I look over the AAPT Fellows of the past I know at least six personally. Several were personal mentors, helping me learn to be a better teacher when I was younger and encouraging me as a professional as well," said Barnett Dreyfuss.
The requirements for being a fellow for the AAPT are steep – it is a distinct honor given only to the best and most impactful physics teachers and professors around the country. The fellowship recognizes the amazing work done by Barnett Dreyfuss teaching physics. 
"Mrs. Barnett Dreyfuss is extremely well deserving of this award for a long time. She is one of the hardest working people I know. She mentored teachers worldwide, taking calls at six am and working until midnight. All of that is for the love of physics and science education. She cares deeply for kids and for physics. I couldn't think of a better person for the award," said Amador Biology teacher Cora Da Costa Pereira. 
Mrs. Barnett Dreyfuss has been an active part of the physics community in California and around the country, writing research papers for The Physics Teacher — papers published by the AAPT and constantly thinking of new ways to improve her classroom. 
"I've served on a national committee, attended and presented at our national conferences, and been heavily involved in our local section for Northern California and Nevada for the last decade. Twice a year we hold national conferences which allow everyone from K-12 teachers to college professors to Ph.D. candidates to get together to talk about Physics Education Research, modern pedagogy, and more," said Barnett Dreyfuss. 
 Her impact is not just with the AAPT; Barnett Dreyfuss has a large presence in the school as well.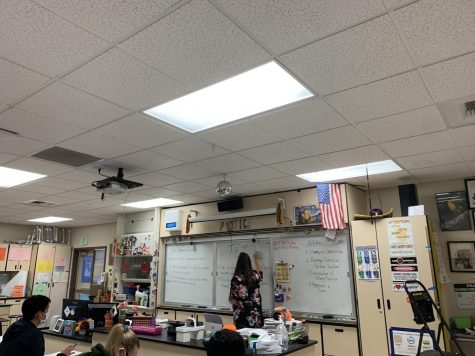 "Mrs. Barnett Dreyfuss is currently the department chair at Amador, and she has also been a new teacher leader campus-wide. She is always there to give a lending hand to any new science member or veteran science member. She is always there for us and for our students," said Da Costa. 
Barnett Dreyfuss also does a lot of work with Step Up, a program to improve gender equity in physics.
"I became involved in the summer of 2018 as the Ambassador Program Coordinator, recruiting, training, and overseeing groups of teachers from across the country. As our NSF grant is winding down I'm transitioning over to other equity-driven projects and research topics," said Barnett Dreyfuss. 
 AP Physics students like Gavin Wang ('23) also recognize her efforts at Amador, teaching physics. 
 "She is deserving of this award. In the classroom, she has a great class period. For example, just today, she incorporated James Bond into her lecture, and it raised my interest in the subject a lot. Students can see that she works hard, and she answered all my questions well," said Wang.