Amador football field renovated to honor Walker Family Trust
Officially titled Walker Field, the Amador football field was recently updated to commemorate the Walker Family Trusts' contributions to the school.
"I didn't really notice any recognition so I wanted to go above and beyond to really make it clear and give thanks to The Walker Family Trust for this invaluable gift," said Amador Vice Principal and Walker Field project coordinator Michael Jaramillo.
Jaramillo's project was dedicated to reinforcing the acknowledgement that The Walker Family Trust deserves in their permanent role on Amador's campus. Throughout the field, the Walker family name can be found on the entrance building as well as on the press box inside.  
"We have cast aluminum letters right at the entrance of the stadium that reads Walker Field. It was an inspiration to me and all the students and I think it needs to be recognized by the community when they enter our stadium to see Walker Field," said Jaramillo.
Laurie Walker, Amador's current Administrative Secretary, is the daughter of the founders of the Walker Family Trust program. She grew up surrounded by people in the field of education and has always understood the importance of community.
"My mom was a first grade teacher and my dad was a professor at UC Davis for 45 years and they always liked to give back to the community. The Walker Family Trust was designed to support and enhance education and athletics of our young people," said Walker.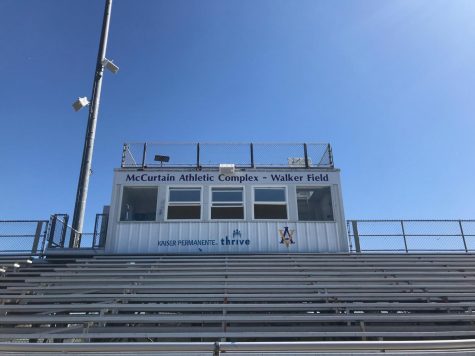 When finding out the shabby state of Amador's football field in 2017, Walker encouraged her parents to use their program to help update the field. 
"Our Athletic Boosters came up with the idea that the field needs to be redone because it was in such poor condition. I reached out to my mom, and my dad had sadly passed away by that time, and asked if we could contribute," said Walker.
Unknowing of Jaramillo's renovations to the field, the sign was unveiled only this past week and came as a complete surprise to Walker.
"It was amazing. Unfortunately, my mom passed away on May 23 of this year, and it was very emotional for me. She just would have been thrilled to see it. I'm glad that my family was able to make this donation because all we want to do is to continue to make Amador a better place," said Walker.
Students, especially those who use the athletic complex on a daily basis, consider the football stadium a core part of their experience on the Amador campus and a true gift to Pleasanton.
"I know it's home. There's nothing better than to have a home game and play. There's fans out there cheering for you and the Amador community is there together and I like that," said JV football player Niko Glafkides ('24).