Amador seniors start political newsletter site SnapCivics 
A team of Bay Area students, including Amador seniors Jonah Wang ('22) and Honoré Alexander ('22), recently founded SnapCivics, a nonprofit organization aiming to simplify complex political topics for teen readers. Wang, the founder and president, was inspired to start the project during his internship at the Alameda County office under David Haubert.
"[The internship's] instructions were simply to find a community need, and find a possible solution to that need using your various talents," said Wang. "I knew that civic participation among the youth was a growing concern, as we have a very low percentage of age 18-21 voters, and decided to combine my entrepreneurship and web-design skills to create SnapCivics to help the youth dig deeper into civic issues."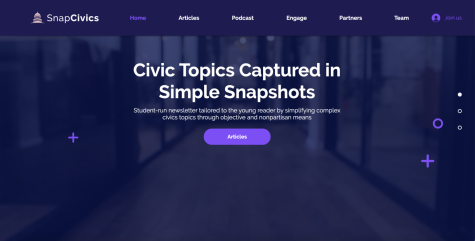 The SnapCivics website offers carefully researched articles on court cases and political events that help students gain a better understanding of political history through succinct, straightforward writing. 
"Our writers report their topics to a dashboard, extensively research that topic with different sources, draft up their article drafts, and then our team of editors go through and edit via the dashboard. This process ends up taking days per article, sometimes [even] a whole week," said Wang.
The SnapCivics Instagram account presents short snapshots of current events to keep teens updated on what's happening around them. Recently, they've even debuted a podcast series where they delve deeper into American politics by conversing with educators, civic leaders, and elected officials. 
"Listening to the words and thoughts of more experienced scholars is something of great value and wisdom, especially in formulating your own political ideas and thoughts," said Alexander, vice president of operations.
By expanding to this diverse array of platforms, SnapCivics hopes to reach more students and teach them about civics. The officers all strongly believe that today's teens need to be more aware of and involved in political affairs. 
"Our generation will soon be responsible for deciding the ways in which we choose to address the social and political issues facing our world today," said vice president of development and Monte Vista senior Michelle Chen ('22). "By being engaged in politics and current events now, we prepare ourselves to be informed voters and citizens."
View this post on Instagram

Gen Z's current indifference towards politics stems from how government decisions and policies don't affect them as much as tax-paying adults. SnapCivics's mission is to change this disinterest into enthusiasm and further promote the study of civics. 
"Unlike math or biology, the social sciences help us examine our world from a unique perspective that allows us to see how people work," said Wang. "History is the study of people as biology is the study of life, and to me, understanding how and why people work is very important."
For Wang, the recent high-profile Supreme Court case Mahoney School District vs. B.L. is an encouraging sign that teen participation in politics will rise in the future. 
"
As an organization, we strive for impartiality and the spreading of knowledge – this is also what excites me the most about SnapCivics: we have the potential to create meaningful change."
— Honore Alexander ('22)
"[The case] is interesting because it invokes a teen saying rude things about their school on Snapchat. It's weird imagining someone so similar to us teenagers making it up to the Supreme Court," said Wang. 
For those interested in joining SnapCivics, Alexander recommends students first visit the organization's website to check out their work. Then, students can fill out the member application on the site. And for those who want an unbiased yet simple and edifying dive into politics, rest assured, SnapCivics is the place to go. 
"As an organization, we strive for impartiality and the spreading of knowledge – this is also what excites me the most about SnapCivics: we have the potential to create meaningful change," said Alexander. "This is a wonderful organization to be part of, and I am truly excited to see how much change and knowledge we can spread." 
Remember: Republicans are red, Democrats are blue, but SnapCivics is purple (nonpartisan) for you! 
Leave a Comment