Carly Oniki ('22) commits to UPenn for gymnastics
Senior Carly Oniki ('22) recently secured a spot on the University of Pennsylvania's NCAA gymnastics team for their 2022-2023 school year.
"Doing college gymnastics at a deep Division One level has been my number one goal in the sport since I was seven years old," said Oniki.
Her introduction to the sport came at an early age, and her love for gymnastics only grew as she progressed through gymnastics levels.
"I did mommy and me classes with my mom when I was two or three. From there, I just excelled and joined the official California Gymnastics Academy team. In my sophomore year, I switched to San Mateo Gymnastics and have been training with them for the past few years," said Oniki.
Carly's philosophy regarding a strict work ethic and balancing her life with gymnastics as best as she could has remained a part of her life for years.
"I practice over 20 hours a week and have an hour and a half commute everyday, so it's definitely tough because I have to do my homework in the car and I get home pretty late at night," said Oniki.
"
It was honestly such a shock and it hasn't really sunk in yet, so it's just really crazy that I actually achieved it. UPenn was my number one choice by far, so I feel so fortunate and lucky that I get to go to my dream school and do the sport I love. "
— Carly Oniki ('22)
When the pandemic hit, Oniki was unable to continue refining her abilities and ended up taking a longer break than expected.
"We had to do practice team workouts on Zoom about three or four times a week. We pretty much lost all of our skills, but it also was good because it gave our bodies a chance to rest and heal," said Oniki.
Despite Oniki's continuous enthusiasm and success in the sport, life's plans managed to affect her in an unfortunate and unexpected way. A foot injury managed to coincide poorly with her preparation for college recruitment.
"I hurt my foot like the end of my 8th grade year and got it misdiagnosed as a stress fracture for six months, but it actually was broken the entire time. I ended up having to get surgery on it at the beginning of my freshman year, and then I spent the entirety of that year recovering, so I didn't compete in 2019," said Oniki.
As her fellow gymnasts prepared to look into schools and submit their athletic resumes, Oniki worried about what this injury could mean for her future.
"I got my second surgery at the end of my sophomore year, which is prime time for recruiting. This is when everyone's polishing their skills to send to coaches in and do camps. I was really disappointed because I was afraid that I wouldn't be able to do college gymnastics," said Oniki.
View this post on Instagram
Her official journey to the UPenn gymnastics team began in the summer of 2019, when she emailed the university's coaches. She stayed in contact with them throughout her junior year, keeping the coaches updated on her activities.
"I reached out to them after my sophomore year when we were allowed to start communicating with college coaches. Throughout my junior year, they asked me to do an academic pre-read, [which is] where they compile all of your academic information and the admission office determines if you can get into the school or not," said Oniki.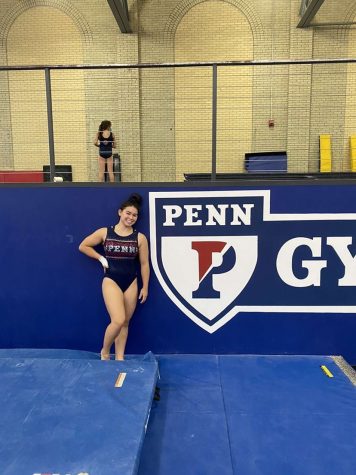 To prepare for her official application, Oniki attended a camp this past summer at the UPenn campus, allowing the university's coaches to see her capabilities in-person. She visited the East Coast school and was luckily able to secure her spot on their team.
"I sent them videos of my gymnastics and of me competing at meets to show them what skills I was working on. When I went to their camp, I also had a chance to train at their gym so they got to see me in person, and then they got to work with me and coach me," said Oniki.
Oniki's commitment to the school does not provide her with any financial aid throughout the application process. However, it means that when she submits her application to the school, she'll gain priority of admission over other UPenn applicants.
"I actually didn't apply to any [other] schools, I'm only going to apply to UPenn. I'll apply to the school for early admission, and then from there, the coaches have to do a write-up on proving I am recruited for the gymnastics team. My application gets flagged, admissions looks it over, and then they hopefully let me in to the school," said Oniki.
Once on campus and fully submerged within the college atmosphere, Oniki looks forward to competing as a team as opposed to the individual competitions of club gymnastics.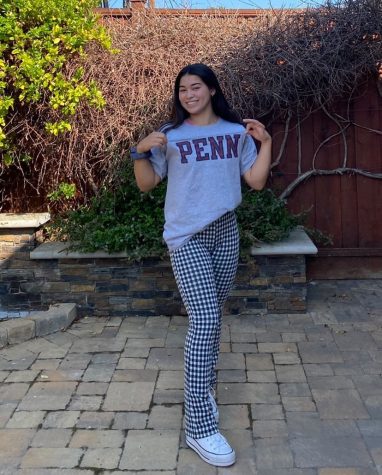 "I'll be able to train with the team and then we'll travel and compete together. I'm just excited to be a part of that atmosphere and be surrounded by a group of girls who are supportive. I just would love to contribute in any way, shape, or form that I can," said Oniki.
She immediately accepted after receiving the offer from UPenn this past August. After almost a decade of sharpening her gymnastics talents and constantly sacrificing her time, Oniki will be able to fulfill her childhood wish next fall.
"It was honestly such a shock and it hasn't really sunk in yet, so it's just really crazy that I actually achieved it. UPenn was my number one choice by far, so I feel so fortunate and lucky that I get to go to my dream school and do the sport I love," said Oniki.
Leave a Comment