Ms. Ponce-Rodriguez joins the counseling department
October 7, 2021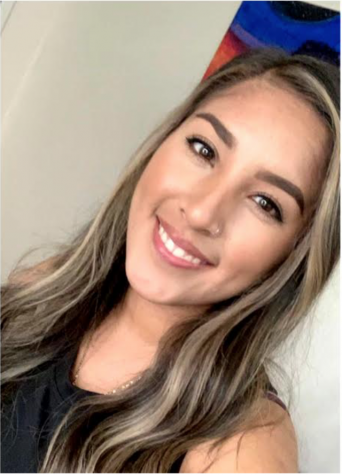 Q: What's your name and position?
My name is Ms. Yosari Ponce-Rodriguez, and I am the school counselor for last names D-H.
Q: When did you decide you wanted to be a counselor?
When I was younger, I really wanted to go to UC Santa Barbara. That was my dream school. My [high school] counselor said that I probably wouldn't get in, and to not even try, which now, being in the chair that I am, I understand her logic; but I felt like she didn't give me any direction on how to achieve my goal. It's true that I probably wouldn't have been able to go straight out of high school to UC Santa Barbara, but there are other ways for students to get there. My bad experience with my counselor made me not want to be like that. It made me want to give kids all their options, and help them find ways, so they could achieve the goals they want for themselves. 
Another reason is that I always knew I wanted to be in the education system. I wanted to help students, I just didn't see myself as a teacher. It felt like that wasn't really my kind of thing, but I think one day I just dawned on it, like wait, I could be a school counselor, and I could still help students but not be in the classroom, so it worked out.
Q: What's your favorite part about being a counselor?
This is my first year here, so I haven't experienced it in Amador, but what has been fun is seeing students grow up or mature or change a little bit. I've even been seeing that in short amounts of time, where the maturity level has just upped, in all senses of the word – their maturity, sometimes also their skills like in math or English have improved, so watching that is really cool and almost rewarding.
"

It made me want to give kids all their options and help them find ways so they could achieve the goals they want for themselves."

— Ms. Ponce-Rodriguez
Q: Do you have a strategy for taking care of your own mental health and preventing burnout?
Sometimes I think there's not enough time in the day. The day's over and I still feel like I have so much to do, but I try to remind myself that yes, there's always going to be so much you could do, but I need to make sure I'm taking care of myself mentally so I'm not burnt out, and then I'm no good to anyone. Lately I've been trying to have a hard cut-off of 7 o'clock – that's it, that's enough, relax and take a break, and you'll have time to do it tomorrow anyways.
Q: Do you have any hobbies you like to do in your free time?
I really enjoy plants. I like tending to my plants and having a bunch at home, just different flowers and greeneries and stuff. When I have time, I'll go out there and start cutting off some dead leaves or watering them, so to me that's rewarding. And I also have a dog, so I go walking with her, too.
Q: What advice do you have for stressed students?
My biggest advice is that I know everyone is overwhelmed, but things will get done. Take it one step at a time, and do your best to try to manage your stress. I know the pressure of college applications, but take care of yourself, one thing at a time, and it will get done.
Q: What if we're nervous about meeting with a counselor? 
For us [counselors], we don't think anyone's weird, at all. I'm gonna speak for myself, but I have a very high inclination that all the other counselors are like this: this is really a judgement-free zone. We were kids too, we were teens as well, and we know exactly what all of you are going through, so no judgement here. We're always happy to listen, happy to help however we can, and as long as you're not in any danger to yourself or to others, what's said here, will stay here.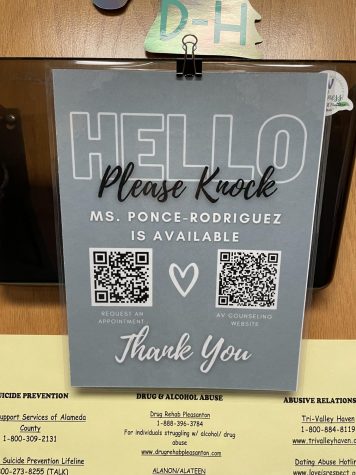 Q: How can we schedule an appointment with you?
The easiest way for kids to access me is by email ([email protected]). All of the counselors' offices have these posters, and you can scan this QR code. It shoots you to a website where you can request a meeting specifically with your counselor. Everybody can do that, just come in, scan the code, and request a meeting, and yeah! You could also request your counselor during ACCESS or Advisory, so that's also an option. 
Q: Anything else you want to add?
I think also sometimes you land where you're supposed to be. That might not be what you want to hear, but for me, I ended up going to East Bay Arts, and I was like, ugh, East Bay Arts, really? that's so close to home, etc. I just thought certain things of East Bay Arts, but now looking back on it, that was the best thing for me given my circumstances, given what I was going through, it was just the best placement for myself. Sometimes we have these expectations or these ideas of what we want to do, and I want to help students get there; but I also want to remind them that sometimes, it might be for the best.
I'm just happy to be here. I'm really excited to be a part of Amador Valley, and my doors are always open.