Samaira Mehta ('24) starts sustainable and all-inclusive clothing brand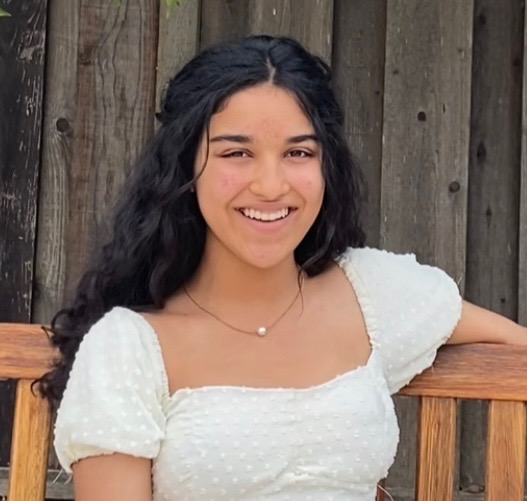 Samaira Mehta ('24) started her local fashion brand That Girl last September. That Girl is a sustainable fashion brand that specializes in handmade clothing made to order. 
Mehta first discovered her love for sewing at 8 years old during a camp.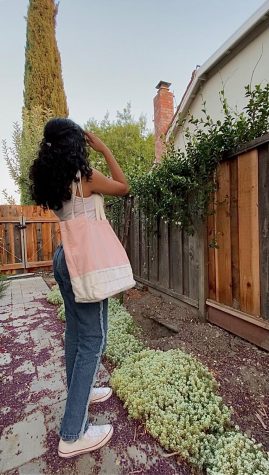 "I went to a summer camp called Steve & Kates. They had separate rooms for different activities, and there was a sewing room. I spent a lot of time that summer in the sewing room, and by the end of the summer, I was sewing purses, bags, and a lot of different things. For my next birthday, all my close family friends and my brother all pitched in to get a sewing machine. So, I've been sewing since then," said Mehta.
Her business That Girl was inspired as a way to both help out her community and improve her garment-making skills.
"I was having an issue finding what I wanted in stores and making sure that they fit me right, especially because fitting rooms weren't open. I could share what I really wanted to see in stores with everyone else. Secondly, I was really developing these very specific skills, mastering specific garments over quarantine because I had so much time on my hands. I was really getting good at making specific things because I was making them so often and so frequently," said Mehta. 
For Samaira, That Girl also serves as a way to connect with others with similar interests in fashion. 
"This was a perfect way to first of all share the things I'm making and make them available to other people. So, if they like similar things, they can have them available and buy them. It is a great way to document my progress. I just love being creative so, sharing my creativity and seeing other people enjoy it, is really satisfying to me and makes me really happy," expressed Mehta.  

The name of her shop was inspired by how Samaira Mehta wanted her customers to feel after wearing her pieces.
"That Girl came from the feeling [of] an 'it girl' or a 'that girl.' The way me and my friends talk about other girls who are super well dressed, super polished, and look phenomenal. We are like, 'Oh my god, did you see that girl's outfit?' Just the repetition of the phrase 'that girl'," explained Mehta. 
For Mehta ('24), clothing is a way for people to express themselves and how they feel internally. She hopes that through her business, she'll be able to raise people's confidence by making them feel and look their best with her clothes.
"
I think everyone deserves to look and feel beautiful. It's important for anyone and everyone, regardless of size and age, to be able to present themselves externally the way they feel internally."
— Samaira Mehta
In running her business, one of the most important things to Samaira is focusing on sustainability and all-inclusivity.
"Fashion creates a lot of waste, especially with fast fashion becoming increasingly popular with the internet and social media. Being sustainable is super important to me because I really don't like harming the environment. It's not nice, and having sustainable clothes at such a low price is pretty important to me. I think everyone deserves to look and feel beautiful. It's important for anyone and everyone, regardless of size and age, to be able to present themselves externally the way they feel internally," described Mehta.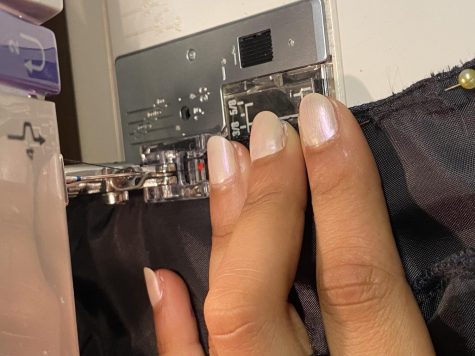 What makes That Girl so different from other fashion brands is the fact that item is handmade and tailored to the customer's specific measurements.
"I make all the pieces myself, so all that time and energy that it takes to cut and make it to your specific measurements is something unique and different. The rate and the speed at which I produce is a lot slower, and the waste is a lot less," said Mehta. 
Mehta also provides free alterations for every garment purchased.
"I offer free alterations because I think fit is really important. A garment can be really beautiful on a hanger, but then when you put it on, there are just these little things that make it look not as nice as it could. Because I am [the one] taking your measurements, I feel it's  important that alterations are even a possibility. If it's like, 'Oh, I wish this strap was smaller' or 'could you hem it a little shorter' or maybe 'pleat it a little tighter.' These little things that don't require me to make an entirely new garment, I am willing to do," explained Samaira Mehta. 
View this post on Instagram

People can browse and purchase items from That Girl through the brand's Instagram account, @shop.thatgirl. Other social media include the TikTok account @shop.thatgirl.
"All orders are through Instagram. They can just DM me and I go through the process of measurements, fabric, and special requests. I take Paypal, but if it is someone that lives close by or know personally, I am willing to take checks or cash. For anyone who lives in the Tri-Valley, they can come and pick it up from my house. But for people who live further away, shipping is usually an option," said Mehta. 
Currently, Samaira is working on her next release.
"I am working on something right now. I am hoping that it will be more of a basic, or something that you can wear more often in more ways with more outfits. Something like a timeless piece that you will have in your closet for a longer time," said Samaira Mehta.  
View Comments (1)