Movie Review: Josee, the Tiger and the Fish
Real Tigers and Real Fish
Note: The following review contains spoilers.
Realism is a trait highly valued but rarely found. In media, everything is exaggerated. Blown up out of proportion, drama is often unnatural –  warped, twisted, and distorted into something barely recognizable. 
Josee, The Tiger and The Fish is a new work by Studio Bones released in October of 2020 that breaks out of the mold and out of the ridiculous archetypes sewn into the anime industry. Emotion is emphasized not through cheap, ugly, tears but through relatability. Characters are flawed, and not standard Type A jerks or a Type B self sacrificing protagonists, but have real flaws and real traits that humans would have.  
Diegesis
The story centers around a twenty-four year old girl named Kumiko, who calls herself Josee after the main heroine in Françoise Sagan's love story Those Without Shadows. Born in a wheelchair, she views the world as a dangerous jungle, with tigers and beasts roaming, threatening everyone and anyone at every corner. 
She, however, harbors a secret passion: drawing, and a love for the sea. In a private, secluded  room that she allows no one but herself to be in, she draws and dreams of being a fish, which needs only fins and no legs to swim. 
Aloof and almost rude, she struggles to make emotional connections with most people. Through a chance encounter, Josee stumbles upon a younger twenty-two year old, named Tsuneo Suzukawa. He is the representation of hopes, dreams, and youth. Filled with a love for the sea and diving, he wishes to go to Mexico to study abroad and swim in wider seas. 
Josee's overprotective grandmother hires Tsuneo as a caretaker for Josee, and the two start to build a relationship. Slowly, the two realize they have feelings for each other. 
Tragedy strikes, however, and Tsuneo's and Josee's roles are reversed. Tsuneo suffers a car accident, and falls into a depression, giving up on his dreams after being informed that he too, will end up unable to run fast or swim far. 
Josee writes a picture book for Tsuneo and reads it to him at one of the most emotional moments in the film. Inspired by Josee, Tsuneo overcomes his doubt and sets off for Mexico nevertheless, and comes back at the end of the movie to profess his love for Josee. 
Emotion over Rationale; Realism over Romanticism
Story and thematic message are not necessarily the movie's strong suits, but its emotion makes up for the solid but not spectacular storyline. The most profound moments aren't the climactic scenes, but the emotional and aesthetic ones. 
In particular, a scene where Tsuneo picks Josee up at a beach she had always wanted to go to under a setting sun, and a scene where Josee reads a children's book she wrote herself to a wheelchair-bound Tsuneo tug at the heartstrings quite delicately.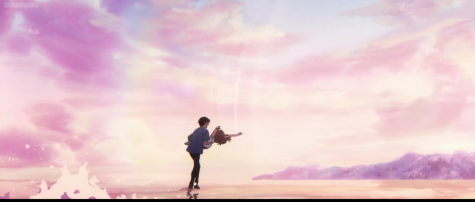 However, realism is the best quality of the film. No character is perfect, no character stays true to themselves the entire time. Josee is an apathetic and cynical character at the beginning of the movie, yet her self-given name is named after one of the most romantic characters to exist in literature; Tsuneo's head is filled with dreams until it isn't. The flat, one-dimensional characters overused in everyday media are completely overturned.
Josee, The Tiger, and The Fish presents a touching truth: the world is filled with tigers, but also with beautiful schools of fish.