Selina Nakari ('23) wins team gold for artistic swimming in Junior Olympics
Selina Nakari ('23) won team gold at this year's Junior Olympics for artistic swimming with her team the Santa Clara Aquamaids. Directed by USA Artistic Swimming, the championship took place at the Air Force Academy Cadet Natatorium in Colorado Springs, Colorado from July 26 to July 3 and featured over 1,100 competitors from all around the US.
Selina Nakari ('23) started her synchronized swimming career in the Bay Area at just 8 years old. Although not as mainstream as baseball or soccer, synchronized swimming can be an immensely difficult sport in its own right.
"Synchronized swimming, also known as artistic swimming, is essentially just gymnastics, dancing, and swimming all in the water," described Nakari ('23).
Nakari ('23) was inspired to take up synchronized swimming after seeing it broadcasted live in the 2012 Olympics games.
"Russia is one of the top countries when it comes to artistic swimming, and there are some swimmers there that I am interested in," said Nakari ('23).
Selina Nakari ('23)'s favorite thing about being a part of the artistic swimming circle is the community. 
"We swim in a team with eight to ten people, and it's really fun working with other people," said Nakari ('23).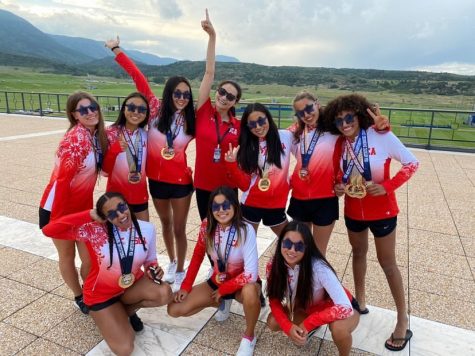 During the training for the Junior Olympics, there were a number of challenges that Selina Nakari ('23) and the Santa Clara Aquamaids had to overcome.
"Because of the COVID and quarantine issues, we didn't get to train as much as we used to. We used to train six days a week, but because of COVID, we only got to train four days a week and for less hours," said Nakari ('23). 
Another challenge she and her team faced was the Junior Olympics' competition environment. The Air Force Academy Cadet Natatorium has an elevation of 7,528 feet, which affected many athletes who were more used to lower elevations.
"Specifically at this Junior Olympics, it was really hard to [keep a peaceful mind] because it wasn't a good environment. People were passing out left and right. So, we really had to talk together as a team," described Nakari ('23).
One of the most important factors in the team's success was working together while competing.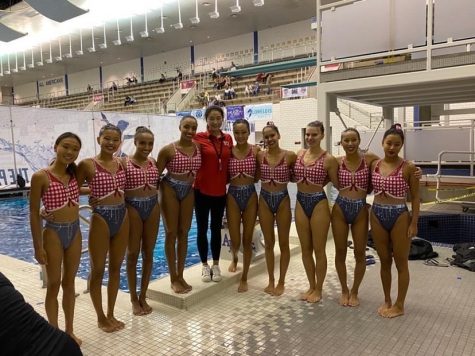 "In the beginning of the year, we started out with so many people, but everybody started quitting, so we were losing people. We had to put in new people and we had to adjust. We worked it out really well," said Nakari ('23). 
Selina Nakari ('23) plans to continue her swimming even after high school.
"[I'd like to do] swimming for college, in Stanford or Ohio State," said Nakari ('23). 
Leave a Comment