TV Show Review: "Miracle Workers"
Disclaimer: This show is rated TV-MA and is not recommended for children under 17 without parental consent. This show contains profanity, sexual references, and violence.
Overview
Miracle Workers is a comedy anthology series starring Daniel Radcliffe, Steve Buscemi, Geraldine Viswanathan, and Karan Soni. Watch season 1 and 2 on Hulu and HBO Max with a subscription. Season 3 is currently airing its last two episodes on the TBS cable channel. 
The Story
The story of Miracle Workers can be hard to understand at first. Every season, the cast stays the same, but the storyline and characters change.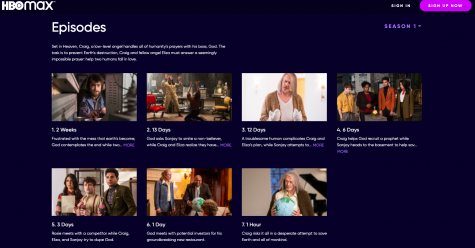 In season 1, the story takes place in Heaven which is run by God (Steve Buscemi) and his executive assistant, Sanjay Prince (Karan Soni). In order to save the world and win a bet, Heaven's employees, Craig (Daniel Radcliffe) and Eliza (Geraldine Viswanathan), have to make two people on earth fall in love with each other. 
Season 2 takes place in the Dark Ages. The main story focuses on family, love, and staying alive.  Prince Chuncley (Daniel Radcliffe) pursues a happier life with his father, while also searching for love and a better version of himself. His love interest, Al Shitshovler (Geraldine Viswanathan) finds her own passions, aside from shoveling the town's feces with her dad, Eddie Shitshovler (Steve Buscemi). In this season, all character's jobs correlate to their last name. 
The latest season is located on the Oregon Trail, where Benny the Teen (Steve Buscemi), an outlaw, leads a village to Oregon in order to escape the Nameless Bounty Hunter (Karan Soni). Ezekiel Brown (Daniel Radcliffe) is a boring reverend from the village who knows how to get loose when needed, and Prudence Aberdeen (Geraldine Viswanathan), a feminist woman, living in luxury in the village before going on the journey and trying to become more independent from her husband, Todd Aberdeen (Jon Bass).
Positives
All of the actors skillfully bring their characters alive in every season which adds to the authenticity of the story. Each short, 20-minute episode ends on a light-hearted cliffhanger, making the show binge-able. 
The casual comedy aspect puts this show over the top. Characters aren't trying too hard to be funny, which leads to effortless humor audiences are sure to enjoy and laugh along with.
Verdict
Overall, Miracle Workers may be highly underrated, but it has the potential to become a comfort comedy for many people. Personally, I think season 3 is the most laughable. However, each season, excellent acting and lighthearted humor combine to keep viewers laughing and anticipating the next episodes.