Alameda County moves into Orange Tier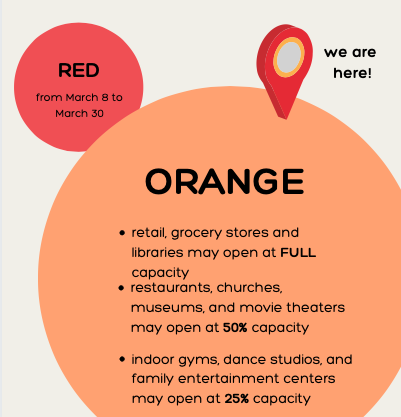 On March 30th, Alameda County moved into the Orange Tier, easing many COVID-19 restrictions.
For malls, libraries, and retail and grocery stores, there are no longer any limits on indoor capacity. Social distancing guidelines will continue to be enforced.
Restaurants, churches, museums, and movie theaters can now run at 50% capacity, up from the previous limit of 25%. Indoor gyms, dance, and yoga studios can also increase capacity from 10% to 25%. Family entertainment centers for Go-Kart racing, mini golf, escape rooms, or bowling, can now operate indoors (with some modifications) and capacity capped at 25%. 
Also, as of April 1st, many larger venues will be allowed to reopen. Fans can now attend outdoor live concerts and professional sporting events at 33% capacity. However, all attendees must be in-state residents.
With the advancement into the orange tier, Alameda County moves a step closer to fully reopening. Remember to wear a mask and do your part to stop the spread when going out!