Mario's 35th anniversary saw Nintendo fans jump for joy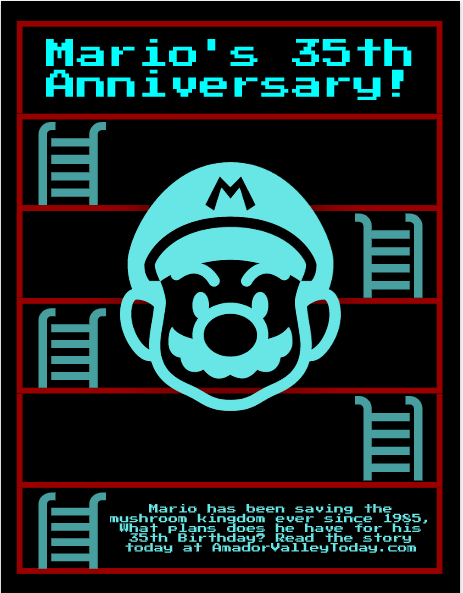 'Super Mario Bros' is an 8-bit platformer that came out on September 13 1985, and has been a successful franchise ever since.
It has spawned 50+ games that have sold millions of copies worldwide. It's creator, Nintendo, celebrated Mario's 35th anniversary on Mario Day on March 17th, with new releases coming soon from console upgrades, to the games themselves. 
With Mario's 35th anniversary also comes with many new games to Nintendo's main console, the Nintendo Switch, including, 'Super Mario 3d World + Bowser's Fury', 'Mario Golf Super Rush', 'Super Mario 3D All Stars', and 'Paper Mario Origami King', all coming out for purchase on the Nintendo Eshop for preorder.
Already released Mario games such as 'Mario Odyssey', 'Mario Kart Deluxe', 'Mario and Sonic at the Olympic Games 2020', 'Super Mario 35', 'New Super Mario Bros Deluxe', and 'Super Mario World Original' will be on sale at 20% or more all week. 
Mario's 35th Birthday will also be giving us some new console updates as well. The Nintendo Switch Mini, released earlier this year, will be coming out with brand new controllers for different games, including Mario himself, Fortnite, and Animal Crossing themed controller patterns. The Nintendo Switch Mini itself will also be getting a sale at 15% off for anyone who missed its initial drop.
Many people online celebrated Mario day, through various artworks of Nintendo characters featured in the Mario universe, streaming classic or new games on Nintendo's new streaming service, Mario Maker, and exchanging nostalgic memories of playing Mario on various consoles throughout Nintendo's run.
Examples include the Nintendo Gameboy, the Nintendo 64, the Wii, the Nintendo DS, and even the Wii U that came out in 2012. No matter what you played Mario on as a kid, do not just celebrate the past, but the future of what Nintendo has in store for us as well.