Movie Review: 'Dating Amber'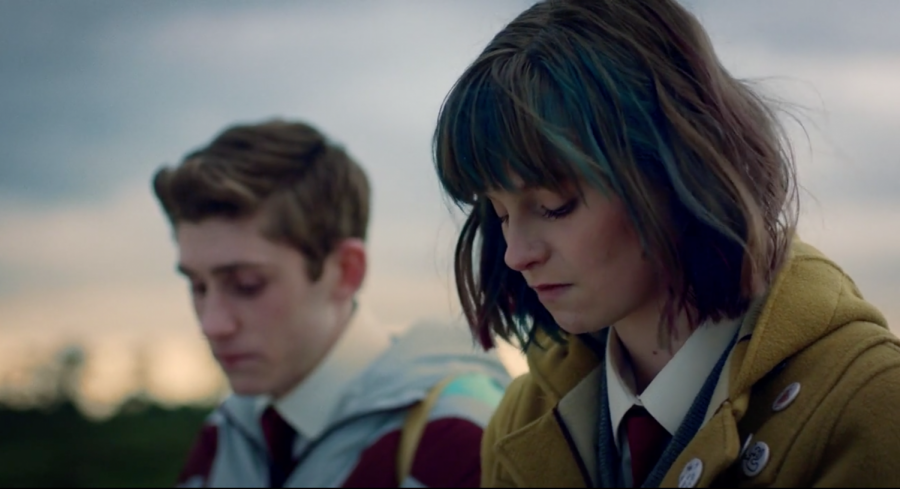 2 teens struggle with their sexual identity in Ireland in the 1990s where, in many areas, homosexuality is frowned upon. 'Dating Amber' is a beautiful film that displays not only romantic love but also the purest form of platonic love.
The story follows Eddie, an insecure, skittish teen boy, and Amber, a confident, hot-tempered teen girl who decide to join a fake relationship with one another to convince their families and classmates that they are straight. 
I thought the storyline was so simple, yet so heartwarming. This movie successfully unveils the sad pressures and set expectations that religion and family can have on a person, not allowing them to feel as though they can be themselves. 
In my opinion, the raw acting in this movie is what makes it so great. This movie not once fails to display the perfect, yet traumatizing awkwardness between the students and their relationships. Its humor branches off of the painfully realistic and cringeworthy scenes we're given. Because of this, I have to give the actors tremendous credit for the scenes they pushed through for this quality content.  
Character development is strongly highlighted as we, the viewers, get to learn more about each character's soft side. Of course, without giving any spoilers, I can say that Amber, although appearing tough at first, is actually an incredibly selfless and generous person. I think it's worth the watch even just to see her development. 
As I said above, this movie presents the best of platonic love and friendship. The viewer watches as the two main characters grow and learn more about one another, and in the end, their connection is expressed in the best way possible. 
I also felt that the length of this movie was just right. It wasn't too long or too short and I never sat wondering when a scene would end. I felt like everything I watched tied in with the story and was necessary for the movie's build-up to the end. 
Although I loved the story's concept and its main focus on friendship, I wish there was more screen time for their romantic relationships as well. I thought the ending was great, but we never got more insight into what happened for Amber and Eddie next, especially regarding their relationships with others. 
Overall, I thought the story was beautiful. It captured my attention right away and it didn't let me down. With a mix of romance, comedy, and drama, I would recommend this movie to a number of people with different movie genre interests.