Virtual Red Ribbon Week raises awareness about drug use and addiction
From October 26-30, TUPE (Tobacco Use Prevention Education) celebrated Red Ribbon Week with daily events and activities for students and parents.
TUPE is a group of seventeen peer educators working to prevent tobacco and drug use among students. During Red Ribbon Week, TUPE organizes their biggest prevention campaign of the year.
"We started planning for RRW since September, which was an entire month before. This year, we decided to host five different events virtually for each day of the week," said TUPE peer educator Marina Lee ('22).
Monday
Monday afternoon, members of TUPE handed out red wristbands, necklaces, lollipops, and stickers, to students who stopped by Amador.
"We were surprised with the turnout because we expected very few people to come. It was nice to finally have some human interaction," said Shreya Sati ('22).
Tuesday
TUPE decorated the Amador Valley campus with red ribbons earlier in the week, and on Tuesday, it was students' turn to decorate their homes with red.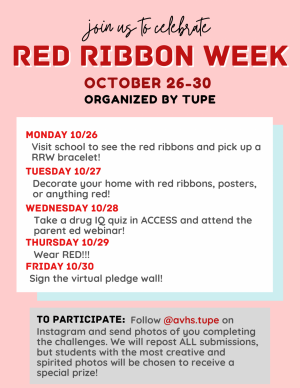 Wednesday
On Wednesday, many teachers sent out a drug IQ quiz during ACCESS. The quiz was an interactive way for students to learn truths behind drug and tobacco use.
Additionally, freshmen were invited to compete in a Kahoot game and participate in discussion groups led by TUPE and LINK members.
Thursday
Thursday, students attended their online classes decked out in red shirts, accessories, and other attire.
Friday
To complete Red Ribbon Week, over 150 students and teachers pledged to make healthy choices and to be drug free by signing a virtual pledge wall.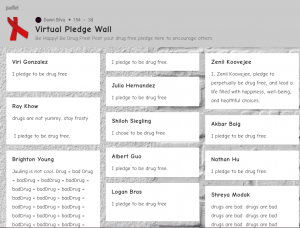 In addition to these daily activities, TUPE planned an educational presentation for parents and presented at a PTSA meeting. 
"It was exciting to connect to the people of our community and reach both students and staff," said Lee.
This year, much of the interaction with students occurred online, as TUPE utilized virtual platforms to engage students.
"Because our event was held remotely, outreach was a crucial aspect. We created videos for AVtv to promote our activities. I also set up an Instagram account to recruit students online," said Lee.
"Organizing the LINK collab was definitely a different challenge compared to planning the in-person activities I did last year. I had to think about break out rooms and choose activities that would translate well over Zoom," said Aysha Cunningham ('21).
Last year, TUPE's booth in the quad at lunchtime contained a spinning wheel with trivia questions and prizes. A huge pledge wall where people could sign their names grabbed students' attention. 
"When we are on campus we are able to host a Red Ribbon Week booth during lunch, it's much more interactive and we are able to reach more students," said club advisor and Physical Education teacher Dawn Silva. 
Though Red Ribbon Week has come to a close, TUPE continues to make it their mission to educate students on the dangers of drug use.
"We're hoping to give presentations to the whole freshman body during their PE classes, but it's likely we'll have to wait until we return to in-person instruction because the schedule is so tight," said Cunningham.
For more future updates from TUPE, follow their Instagram account here @avhs.tupe.