Leadership 'Superfan' app is released to students today!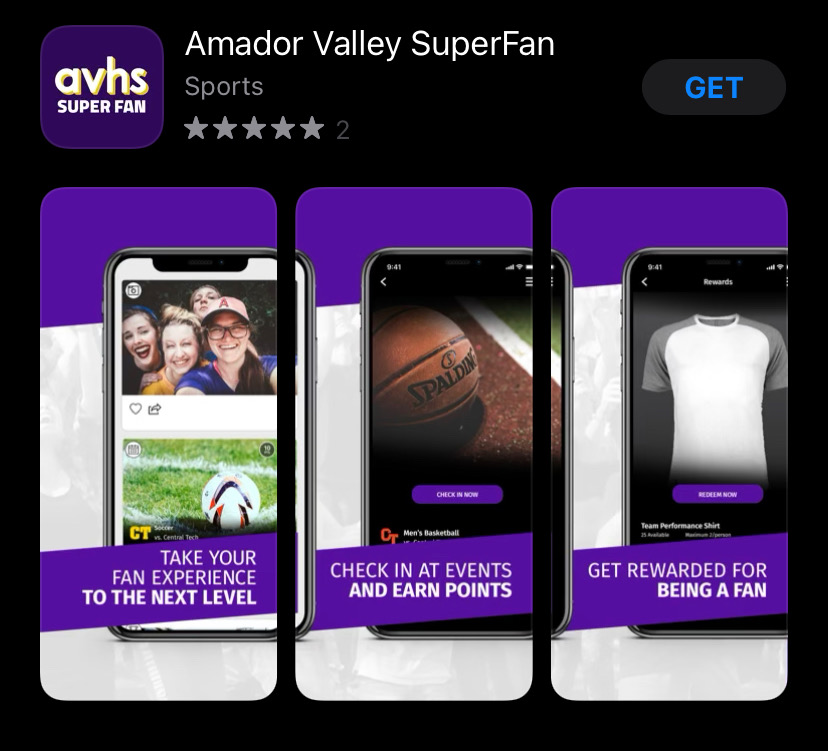 AVHS Superfan is a brand new school app brought to you by Amador Valley leadership. The app will be released on November ninth and will be used to keep students connected and spirited throughout the year.
"AVHS Superfan is a fantastic platform that we have been working to implement for the past year. Before COVID, this app was going to be used for general publicity. Today, I think it will be even more valuable for student participation. AVHS Superfan has a point system, so when you "check in" to events on the app, you get points and can win some big prizes! Before COVID, ball and prom tickets, as well as parking lot spaces were going to be given to the winners. It will be the same scale this year but we're waiting to see what the end of the year looks like!" says Meghan Sloan (21').
The idea for the app was actually pitched back in 2019, when the prospect of attending school spirit events was still relevant.
"AV Leadership became aware of surrounding high schools having their own spirit app in 2019, and began the developing stages of the app that spring, I believe. The app's intended purpose was to incentivize Amador students into participating in and attending Amador events in effort to drum up school spirit. Students could earn points in the app for participating in events and could compete with other students for prizes through Superfan (our app system)," says Abby Baher (21').
Through months of ideas and hard work, leadership has been working hard to make this app possible for downloading on all mobile devices. 
"We've partnered with an app developing company called Superfan Inc. to create a fun and engaging platform for everyone in the Amador community to enjoy," Lauren Sowers (21').
Besides the fun spirit activities and contests on the app you can find new ways to connect with fellow students. The AVHS Superfan includes social features that allow for an online community.
"I think AVHS Superfan will help localize a lot of information and provide opportunities for students to be more connected. I worked on the social part of the app so a cool feature I think we have is the fan cam. It'll be more useful and fun when we go back to school and can go to games and other events, but it's a really cool opportunity for students to show their spirit and share it with others!" says Gureet Chahal (21').
With all the features mentioned by leadership staff who ran the project, AVHS Superfan will without a doubt be something exciting and new for Amador that we haven't seen before. It's more important than ever to feel a sense of community right now in the midst of the pandemic. Although school has adapted to allow us to learn virtually, we're still missing out on all the fun parts of being a don. AVHS Superfan is bringing the fun and friendly aspect of school to us.
"AVHS Superfan will benefit Amador because it incentives participation, creates a sense of community and competition, and it is a great, accessible way to get all the AV information!" says Sloan.
Remember to download AVHS Superfan from the app store to join in the fun. You can create a profile and start participating in all the app has to offer.