My Election Day 2020: An AV Journalist's perspective
Reminder: 270 electoral votes are needed to win the election!
November 3, 2020—It's Election Day!
It's a beautiful day in California! But as nice as it may seem, we're all aware that it's the calm before the storm. At least that's what everyone is saying. 
Many students are also feeling this stress and they've requested that we report on the election, so we've decided to be the students' source for all election coverage.
We will be providing updates throughout the day and we will be researching all different official news sources to provide students less stressful, unbiased coverage of the 2020 Election. We will cover National and local elections.
9:00am: All normal so far. Over 1,100,000 mail-in ballots have now been counted across the country (according to the NY Times, over 64 million mail-in ballots were sent in so far this year, higher than ever due to pandemic fears) . Polling places have been open for 3 hours on the East Coast, but everything is still normal as no one is making predictions or calling states yet.
12:00pm: The election is underway with people showing up to polling stations all over the country.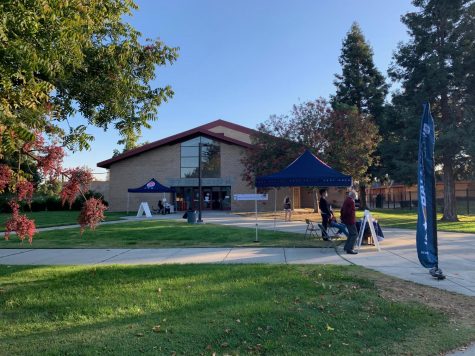 2:00 pm: The early exit polls start coming out. This can give some insight and indication about people's votes, but nothing is being said this year. This is different than the 2016 election and news networks seem to be more cautious so they don't repeat their mistakes and predict the wrong winner. 
3:00 pm: The Southeastern battlegrounds states begin counting the votes. They are the states that can decide the election. Florida, Georgia, North Carolina and Ohio can decide this election. Early numbers are beginning to come out, but all the channels are just predicting and playing the "what if" game because nothing is known yet. 
4:00pm: Some East Coast polls are now closed and all the major networks are beginning their coverage of the election. According to ABC News, exit polls show Biden and Trump tied at 49%, but remember that exit polls will not account for mail-in ballots. 
None of the results are in, so most networks are discussing COVID, the economy, and other issues that all contributed to the way people vote.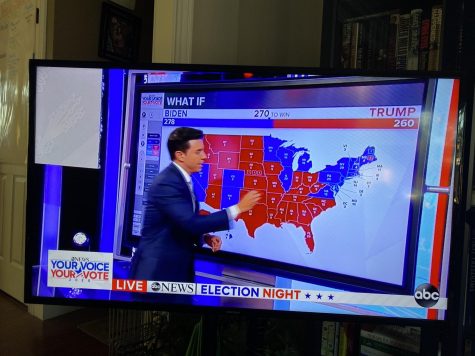 All major networks are reporting the fake robocalls have been going out all over the East Coast tell people to "stay home and stay safe". Robocalls in Michigan have told people to "avoid crowds and vote tomorrow". The FBI is now investigating these calls and it looks like someone or some country is once again getting involved in our elections. 
5:00pm: Trump wins several Southern states, and Biden wins many Northeastern states. Polls have closed in many of the key battleground states. States such as Ohio, Florida, Pennsylvania and Michigan are still being contested. 
Votes have started counting in Florida. Trump is winning over Biden by 50.8% of voters to 48.3% in Florida. It is still too early and too close to tell who is going to win, but it seems as if Trump is edging Biden by a few thousand voters. Experts believe that to win the election, Trump must win Florida. 
Surveys indicate that voters put coronavirus as more of a priority compared to the economy. 
Other than the presidential election, there have been other contested spots in congress. For example, Mitch McConnell got another 6 years in office as a senator in Kentucky. 
Trump is holding an election party with 200 guests in the White house.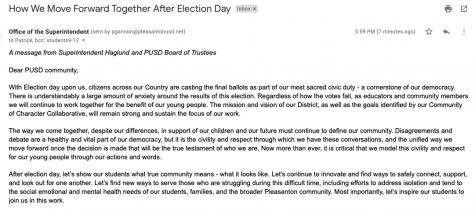 Locally in Pleasanton, there are not many people in line to cast a ballot, unlike many other places. However, there are still safety checks in place to be able to vote. Voters are required to wear gloves and masks when voting. Hand sanitizer is also available at the polling station. 
Poll workers all wear face shields along with masks for protection.
6:00pm: It's 9pm in the East, where polls have been closed for a couple hours. ABC, CNN, and Fox News all project that Trump and Biden have each won 6 states. Currently, it looks like Biden has 44 Electoral Votes and Trump has 48. 
Polls have now closed in Arkansas, Wisconsin, Minnesota, New York, Louisiana, Nebraska, Colorado, New Mexico, Arizona, Wyoming and parts of Kansas and the Dakotas.
CNN reports that the Biden campaign believes that Florida is out of reach. However, they are confident in Pennsylvania, Wisconsin, and Michigan. This also means that this election will be extremely close and there will likely be no landslide Biden win tonight. Latinos in Florida do not support Biden as much as they supposed Clinton in 2016, according to the exit polls. 
Pennsylvania, with 20 electoral votes, still remains as one of the most crucial states to take for both candidates. In 2016, Trump took the state, along with Michigan and Wisconsin, defeating the "Blue Wall," and taking the presidency. 
However, Fox reports that Pennsylvania is expected to take a long time to count its votes as they only started counting mail-in ballots this morning. This means that Pennsylvania will not be decided tonight.
Watch for a look into what Pleasanton's poll booths have looked like from AV senior Mehul Gajula, a current poll booth worker!
7:00pm: It's now 10 pm in the East Coast. The Associated Press predicts that Biden leads in the race 131 points to Trump's 98. 
Polls ended in Iowa, Nevada, Montana, Utah and parts of Idaho and Oregon. 
Florida still leans in favor of Trump by over 1%. However, things may change.
Elsewhere, in Georgia, Michigan, North Carolina, Ohio, Pennsylvania, Texas, and Wisconsin, the results are still unclear. 
The Associated Press indicates that in Texas, Trump is winning by just under 2% with 68% of the votes counted. In Ohio as well, the current president is winning narrowly by less than 1% with 75% of the votes counted. 
Furthermore, the Washington Post expects Iowa to be a battleground state this year. In 2016, Trump easily won Iowa with 9.4%, but this year, it may be closer than expected.
CNN tells that North Carolina is another competitive state to watch out for. With 87% of the votes in, Donald Trump leads by less than three thousand votes in an extremely close 49.4% to 49.4% race. 
In the senate race, the democrats are one step closer to winning control, as former Colorado Governor Hickenlooper defeated senator Gardner. 
Republican Senator Linsey Graham has also won the contested South Carolina senate seat, defeating Jaime Harrison. With close to 200 million dollars raised from both campaigns, Graham won his fourth term as senator, keeping his position as chairman of the Senate Judiciary Committee.
8:00pm: At 11 pm in the East, the Associate Press shows that Biden leads in the presidential race by 131 to Trump's 108. In other polls, CNN predicts a Biden 192 to Trump 108 electoral votes right now. Fox News predicts a Biden 207 to Trump 148. ABC predicts a Biden 187 to Trump 114. 
Polls have closed in the West coast, with California, Washington, and the remainder of Idaho and Oregon finishing up. 
The Senate and House races are still raging on. In the Senate, the Associate Press reports the Republican and Democratic senators are tied at 41 to 41. They need 51 senators for each side to control the Senate. 
The House of Representatives race shows that the Republicans are leading at 121 members to 87 members for the Democrats. Each party needs 218 representatives for the majority. The Republicans have a net loss of 1 representative, while the Democrats have a net gain of 1 representative at this point. 
Arizona, a state that Trump won by more than 3 points in 2016, may add 11 electoral votes to the Biden tally. With 73% votes reported by the Associated Press, Biden leads by more than 8%. With that win, the Washington Post predicts that Biden can afford losing Pennsylvania. Arizona has not voted blue since 1996. 
The former vice president also seems to lag behind in the race with North Carolina, Ohio, and Florida. 
The Washington Post also reports a potentially volatile stock market as a "blue wave" looks more and more unlikely. This prompts a wave of different strategies for investors. 
9:00pm: At 12 am in the East, Biden leads in the race with 209 electoral votes after winning California, Oregon, and Washing to 118 votes for Trump according to the Associated Press. CNN says Biden leads 205 to Trump's 132. Fox news says Biden leads 227 to Trump's 204. ABC says Biden leads 205 to Trump's 136. 
The only two states that have not finished counting are Hawaii and Alaska. Alaska will not begin counting absentee ballots until November 10, the New York Times reports. 
In Florida, the Associated Press says that the election is still too close to call. However, Trump leads by less than 4% and less than 400 thousand votes. 
Trump has won other states, such as Ohio recently, while Biden has won states like Virginia and Arizona, says CNN. 
Furthermore, according to data from the Associated Press, Biden received 59 million votes total compared with Trump's 57 million votes nationally, leading by around 1.4 million votes. 
Currently, aside from Arizona, the map that Associated Press gives is similar to the 2016 election, save for Arizona's 11 points. This means that if the current red states turn red and if the current blue states turn blue, Trump could win with 295 electoral votes. 
Looking at the House race, the GOP successfully got a second house seat in Miami, putting the Republicans ahead 145 seats to the Democrats' 121, according to the Associated Press. 
In the Senate race, the GOP are winning, looking at 45 seats compared with the Democrats' 42, according to the Associated Press. 
10:00 pm: As votes are being counted throughout the nation, Biden addresses the nation and his supporters in cars in Wilmington, Delaware. 
Biden says that he feels good about where he is and that he is on track to win the election. He tells Americans to be patient and wait until every vote and ballot is counted. He is optimistic and confident about the results. 
Trump tweeted in a tweet that was marked by Twitter as potentially misleading, saying that he is "up BIG." In another tweet, he states that he will be "making a statement tonight."
Nevada began posting results, with only a 3% being reported. 
Minnesota with its 10 electoral votes, a state that Trump attempted to push into his favor, goes to Joe Biden with a 10% lead according to the Associated Press. It has voted blue for 12 consecutive elections. 
Associated Press says that Trump just won Florida. This will make Biden's road to 270 harder than before. 
Locally, there have been no protests, and the area seems quiet around Oakland and San Francisco. In other parts of the country, however, there are multiple arrests, although most demonstrations are peaceful. 
In Georgia, Trump leads by 300 thousand votes over Biden with a 8% lead. However, the biggest counties there which have voted for Biden stopped counting for the night with 18% of the votes still needing to be counted. This means that we will not know the final result of Georgia until tomorrow morning.
11:00 pm: The current tally is Biden at 224 votes to Trump's 213. 
Trump won Texas even though Biden put up a challenge. He is up 6 million votes at 52.2% with 82% reported. Even though it voted republican for 11 out of the 12 past elections, the 38 votes have been moving left in recent years.
Biden won a district in Nebraska, putting him 1 vote closer to 270. This means that there is a possibility that Biden achieves exactly 270, and it also reduces the chances of a draw. 
The senate and house races are nearing the end, with the Republicans winning to get majority and the Democrats inching ahead in the race for the House. 
Hundreds of protests march in streets in Portland, Oregon for Black Lives Matter, reports Washington Post. Most protesters wore black, while some carried rifles and other gear. There was no visible damage or violence. 
The Big Question: Will the election be decided today?
The short answer is, most likely, no. The election will not be decided today because there will likely be challenges against the votes after the election day in court. Also, due to the pandemic, the increased amount of mail-in ballots may not be fully counted by tonight. 
However, it's important to note that previous years of election results were typically also not decided on the election night. States usually verify their results weeks after the election, but the winners and losers are decided by the network's analysis of the results.
Technically, they are not the official results, but they have strong indications of the results, and almost always match the true outcome of the votes.
To learn more about how student voters are getting educated before casting their ballots, watch this video with some special appearances from both current students and AV grads:
Check back at this article throughout the day for more updates on the status of the 2020 election.