Amador Track Coach Ozzie's "Corona Indoor Nationals" Goes Viral on Youtube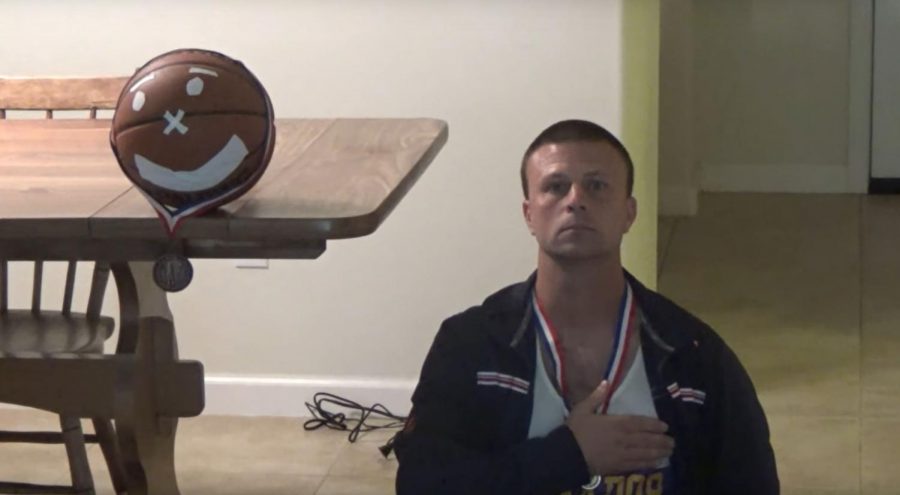 Since California Governor, Gavin Newsom ordered that Alameda County will shelter in place, the community has been forced to find activities to help pass the time while stuck inside their homes.  A majority of people have done this by facetiming their loved ones or binging shows on Netflix; however, Amador track coach, Jason Oswalt (otherwise known as "Coach Ozzie") decided to spice up his quarantine by creating and posting a Youtube video that became viral overnight.
The video – which depicts Ozzie DIYing and attempting high jump courses in the comfort of his home – is part of a series called the Corona Indoor Nationals.  The series started on March 17th and his high jump video – posted the following day – has gotten almost 5k views and over 520 likes over the past 2 weeks.
"At some point that afternoon the idea hit and I headed back to the school, raided our track sheds for the things that I would use, thinking that I probably wouldn't be able to go back and get anything else I might need, and after the weekend of organizing my locked down life, got started on Monday," said Jason Oswalt.
Aware of the disappointment that came with a cancelled track season, Ozzie created the video series to cheer up and connect with the team through this difficult time.
"I have a ton of time on my hands, so does everyone. No one knows what to do with it. So to give the athletes something to just laugh about, whether it is the actual content or just my dorkiness, it was just something…I wanted to keep in touch with the athletes on the team who I knew would enjoy seeing their coach be ridiculous," said Ozzie.
Students on the freshman track team enjoyed the video enough where they decided to create a tik tok promoting it. The tik tok, made by freshman HeeJee Yoon, was posted on all of the team's stories and immediately became viral. The number of views and likes of the tiktok have been increasing every day. Currently, the views exceed 1 million.
"On the first two days it only got around 200 likes, but overnight the tiktok blew up and everyone woke up to 150k likes. We cracked the tiktok algorithm, all thanks to HeeJee's brilliant idea," said Albertine Combs (23'), a member of the track team.  
When Coach Ozzie discovered the tik tok, he was amused and proud of his students.
"I have seen it and think they did a good job. It's pretty funny. But I don't actually have tik tok, so I'm not following it that closely. I've gotten a few emails from students who are excited that it's been viewed like 500,000 times, so that's cool. I took a walk around my local park yesterday though — always at least 6 feet away from everyone of course — and still no paparazzi," said Ozzie.
As portrayed from the reaction that many have had when watching the tik tok, Coach Ozzie was able to achieve his goal in bringing comfort and a laugh out of those in quarantine. 
"I feel like it's really important for teachers and coaches like him to be cheerful and positive! He brought some joy to others during this chaotic time and it's very much appreciated," said Zoe Peterke (20').
Ozzie's fame has gained him some national coverage. He was interviewed recently by MileSplitUSA, an exclusively track & field and cross country network. Watch the interview here.
Students who need more of a laugh from Coach Ozzie can check out his youtube channel here.