Mr. Amador boys joins Pleasanton's Creatures of Impulse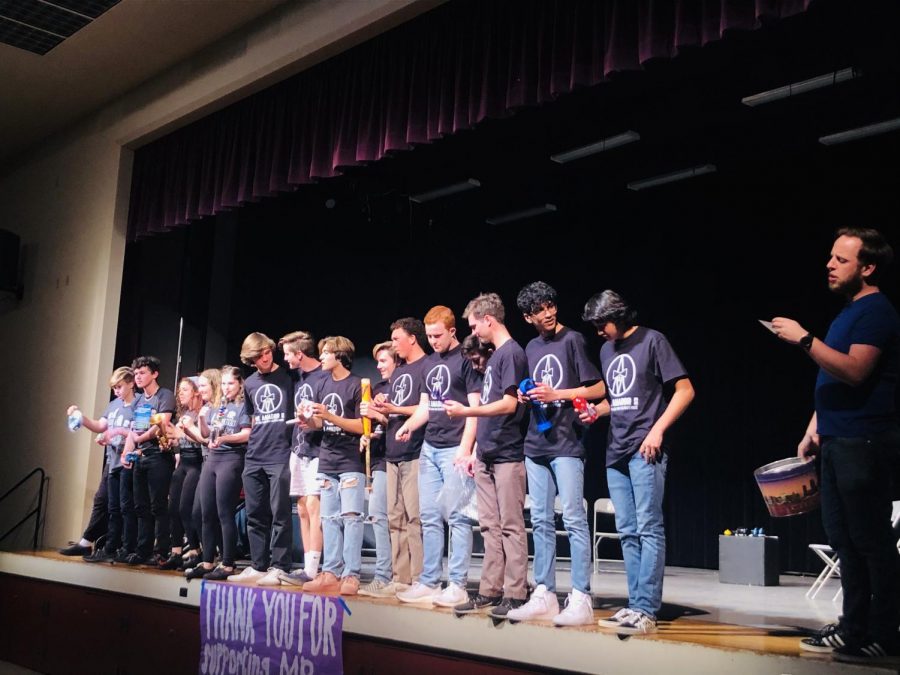 As Mr. Amador gets ready for their May show, several fundraisers for the charity they fund, the George Mark Children's House, have occurred. Two of which with local high school-based Tri-Valley improv troupe, Creatures of Impulse.
The ten Mr. Amador boys squared off against Creatures of Impulsemembers in their annual Improv Face-Off, a wrestling-themed show where a different team each show plays against Creatures in short form, Whose Line Is It Anyway? Fashion. Each "fighter" has a prize that they advertise to the audience, who influences the winning team, as each prize chosen results in a point for their team.
"What I like about Face-Off is that each game and scene lets you reset and try new and different characters and games we get to experiment with and it's a great way for us to show off our acting skills," said Myla Gilbert ('21).
This is the second year Mr. Amador has fought against Creatures – in both shows this year, they won against Creatures in a score of 9-1! As a matter of fact, Creatures has "lost" every game this year, it seems as though the other teams brought better gifts! One of the crowd's favorite game and the boys' was Weekend at Bernie's – a game starting with a scene with four people, and after an audience vote, one of the four drops dead, and the other three improvisers must move the "dead" body like they never died to begin with. This voting process keeps happening until there is one improviser and three "dead" bodies, the last improviser scrambling to keep the rest "alive".
"I enjoyed improv much more than I thought I would because going up there and saying the first thing that comes to mind and being goofy is what [the Mr. Amador boys] are good at," said Bala Ravikumar ('20), Mr. CEO.
Despite the fact that Mr. Amador boys had the least improv experience and rehearsal time, they absolutely killed their performances and brought a large crowd of supporters with them. Improv Faceoff truly is a goofy stage where anyone can act like anything, and if you have good supporting improvers, like Creatures and Mr. Amador, you have the recipe for a perfect improv show.
"The first time I [tried improv] I was confused but after we played games it became really fun, but it's harder than it looks. Being in Mr. Amador did help me with improv because it being such a big platform, it helps me be more social", said Trevor Cheng ('21), Mr. Chef.
This one and half hour show had 5 "rounds", each with a new team playing against Creatures. Other than Mr. Amador's boys, Creatures played the adult team, Creatures of Habit, the middle school team, Kidz Bop, and others.
Mr. Amador raises charity for George Mark's Children's House, a nonprofit that aids families in need with children that have illnesses with no known cure or with mental chronic conditions. They have a show and silent auction on April 20, 2020, in the Amador Valley High School Theatre.