Interview with Amador's State-Champion Comp Civics Members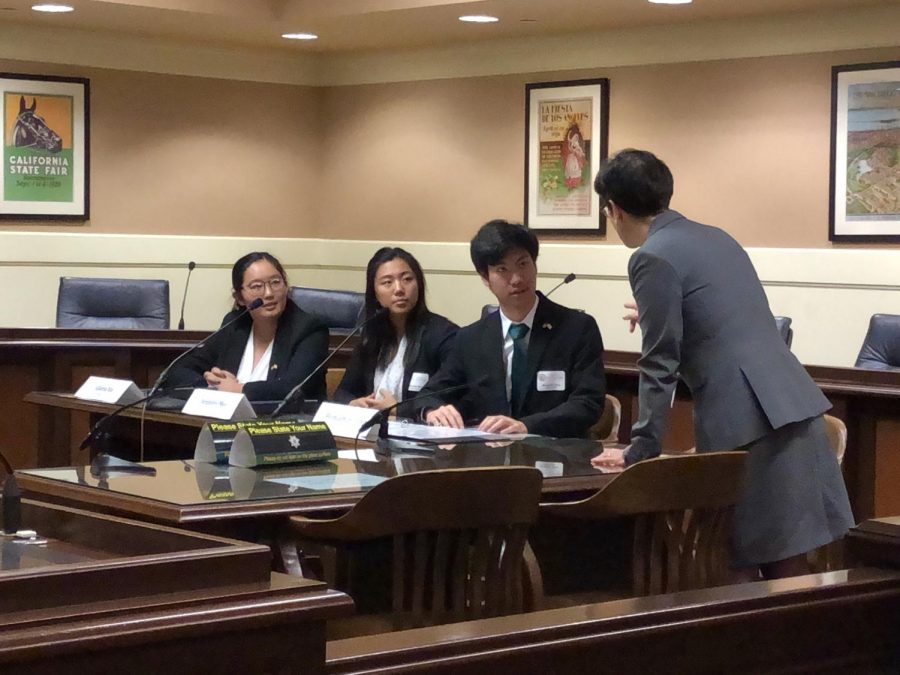 Anna Sun, AVT Editor-in-chief
February 26, 2020
How do you think you did today, what will you take away from this experience?
Brian Chen ('20) (Unit 1)
I feel like our first question was a little shaky since we were working up to last night to write it again, so we were a little unsure, but they didn't seem to notice the things we were unsure about, so that was okay. Our second question went a lot better. It was fun.
Ning Wang ('20) (Unit 6)
I feel like all of our units did really well and I'm happy with how we performed. My main takeaway is that we had a lot of fun, and we really got to learn a lot now and all year about the US and civic education.
Benjamin Zeng ('20) (Unit 3)
Honestly, I'm pretty happy with how we did, we had a pretty tough panel of judges in there, but we held back to their pushback pretty well. They were really trying to say some controversial opinions to test us, and we were able to hold our ground. We definitely saw the value of teamwork, communication, and just being prepared and knowing your stuff going into the competition.
What advice did the judges give you?
Brian Chen ('20) (Unit 1)
Our judges seemed to want more depth, so we want to improve on that. I don't think we talked enough about different issues like the dynamic between state and government. For our second question, they seemed to really like it, and all the gripes were nitpicky. It went really well.
Ning Wang ('20) (Unit 6)
One thing one of the judges noted was that the round he judged us in would be his last round judging ever, and how they've been with We The People all this time, and I think it's pretty remarkable how this program has been around for so long and will continue to be here for such a long time, simply due to how valuable a program it is, not just for the students learning it right now, but also for their later contributions to the community.
Benjamin Zeng ('20) (Unit 3)
I think the last panel of judges really stuck with me. Mr. Ladd was one the judges that our team sort of feared, he knows a lot of stuff with 28 years of experience, but being able to defend our own argument against all those years of experience kind of makes you feel good. He complimented us too, that felt pretty good.