Amador's Winter Percussion season begins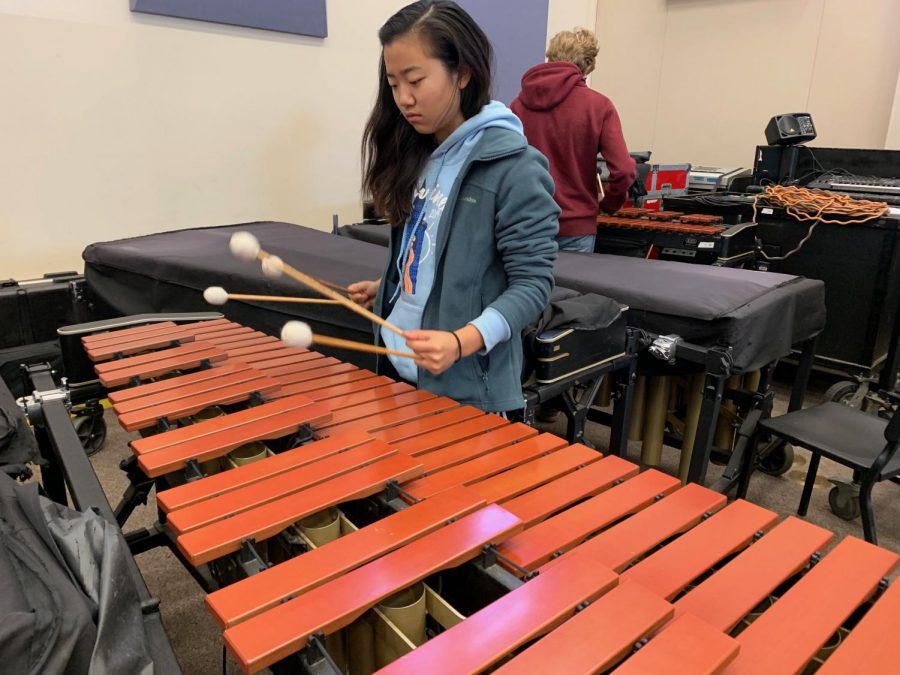 Now that the marching band season is over, winter percussion is beginning their own season and activities.
Winter percussion, similarly to other band programs, deals with music, and in this case specifically percussion instruments. 
"You start at the very beginning learning exercises, and then you get into show music, it a whole show that is usually 8-10 minutes. Front ensemble and Drumline are the two sections of winter percussion. Front Ensemble plays mallet instruments, and they don't really move around as much. Drumline plays drums and they also dance around and do various movements. The show always has a theme. We get costumes to dress up in. The season is around 3 and a half months. We work toward the first show, we end up going through 3-4 competitions, and we attend Championships at the very end," explained veteran mallets player, Cassy Ying ('21).
Students in winter percussion frequently dedicate their time to practicing. 
"In a week there's about 10 or so hours of band practice, but other than that I practice 3 or so hours a week," said member Rathul Anand ('23). 
Many percussion members seem to squeeze in practice time all throughout the day.
"I try to fit in practice during brunch, lunch if the band rooms open, ACCESS, if I don't have a ton of homework, and mostly after school," said mallets player Colleen Zheng ('21).
While members join for various reasons, most if not all of them share a common love for their instruments. 
"I joined winter Percussion because I had an interest in percussion and I had just started, and I wanted to get better at it. I wanted to get better because Percussion is fun and I really enjoy it," said Anand.
Others found their love for winter percussion after searching for the right group to play their instrument with.  
"I actually started out in the marching band drumline, and I thought I would like it a lot more than I did but it just wasn't for me. People urged me to do winter percussion over the winter, and I decided to try front ensemble. When I did that I felt a lot more at home with the instruments that I played," explained Ying. 
A central point that makes winter percussion special is its tight-knit community. 
"I think the thing that draws a lot of people to winter Percussion is the fact that winter Percussion is full of a really close community. It's a lot of different people who have very different backgrounds, very different interests, who you will spend a lot of time with and play instruments together," said Ying. 
Members enjoy the smaller, more intimate size of winter percussion that allows members to get to know the entirety of the group and create lasting relationships.
"Compared to marching band, where there's around 300 members, winter percussion is way smaller with around 30, so all the members are closer, you know everyone personally, and it's fun being surrounded by only percussionists," said Zheng. 
As the season progresses, the students in winter percussion will continue to grow musically and communally and we look forward to seeing them succeed this year.