Stacking the Presents High for Adopted Families
 Students and parents were busy shopping this month, but it wasn't for gifts for their own families. Several AV classes and clubs adopted families in need for the holidays. 
 "I love to see the enthusiasm and the happiness my students get from giving to others, which is why the Adopt-a-Family  program's so important. It was really fun watching teenagers pick out & wrap gifts for little kids. They got so excited picking out Hello Kitty gifts and Mickey Mouse plush toys,"  said AVJournalism Advisor Stephanie Kamali. 
The Adopt-a-family project was run by ASB Secretary Conner Copenhagen.
"This is one of my favorite projects of the year because it makes such an immediate impact on families in our community," said Copenhagen.
Different AV clubs and organizations on campus all sign up to participate and give back generously to Pleasanton community. They collect gift cards, and presents to give to the families. Many groups also collect money and then go on a group shopping trip to buy presents for the family. All the presents are wrapped and prepared for the families before they are submitted to the leadership team.
"Helping families during the holidays is something that everyone should do," said Copenhagen.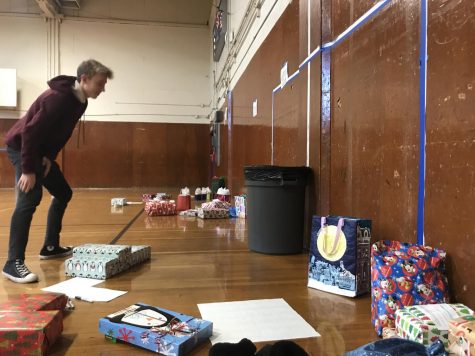 "We collaborate with CCOP, Catholic Community of Pleasanton, and they find the families for us, and we pick up their information, sizes, what their wish lists is and we give it to our clubs and organizations on campus. There are a lot of different organizations on campus participated in, like journalism, leadership, the clubs and sports teams, and teachers' classes also. We are going to drop off everything at the St.  Augustine's church this afternoon, and they will drop off the gifts to the families," said  ASB Class President Catherine Murphy ('20). 
The project starts before students leave for Thanksgiving Break and all the presents and gifts are collected in the small gym on December 6. Then the Leadership students sort through all of the gifts and make sure everyone has what they need. They go shopping to pick anything else that is needed for the families, and then the presents are delivered to St. Augustine's Church after school.
"It's important to me because I feel like this is a way to impact a lot of people, and it's a good way to unite the community and not only Pleasanton but Amador as well as a population of students. I think holiday is the time to give back and this is my way of giving back to the community during the holidays," said Murphy.
This year, AV was able to adopt 13 large families with 8-10 people in each. 
The clubs and organizations that choose to join this project are responsible for supplying the family with requested holiday gifts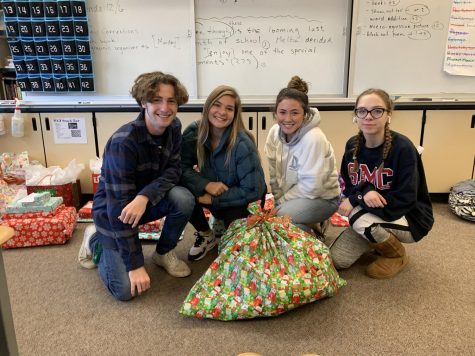 "It's really important for our students to learn the importance of giving back, and I love the fact that our students run our giving projects. Adopt-a-Family is their favorite project to do each year. Watching our students and families come together to take care of others is what the holiday season is all about," said AVJournalism advisor Wendy Connelly. 
    The Adopt-a-Family project is an annual event at Amador that students have been running for well over 10 years.
   "We actually held a competition in Leadership class where teams competed to see who could  provide the best gifts to their families. It sounds weird, but it really brought us together  competing to take care of these families. We took it very personal and wanted to do as much as we could to help them," said  Senior Class Secretary Bella Mayo.                                                
" I could not be happier with the results. The AV community banded together to really take care of families for the holidays. There's nothing better than that," said Copenhagen.