Dons Behind Donversity: GSA Club
When defining the Amador's diversity, many people may pay attention to the variety of ethnicities and cultures on campus.  
However, the GSA represents a separate type of diversity prevalent at Amador: gender and sexuality.
The GSA's activities are based on it's two main goals.  One of these goals is providing education about the LGBTQ community.
"We try to educate…and just overall spread awareness because a lot of people are just uneducated.  Like, you hear people using gay as an insult around school…" said Mary Kate Machi (20').
For the past several years including now, the GSA has utilized the Donversity rally to educate about the GSA and Amador's LGBTQ community.
"We introduce ourselves, we talk about about..the things we've done and our goals in general, our goals as a club and improving our status on campus," said Kris Kiyoi (21').
The GSA also plays a significant role in supporting and providing a safe space for Amador's LGBTQ peoples.  Every week, the GSA not only has club meetings, but also provides support group meetings for students that need it.
"You see people coming in who just want to be accepted and they want that safe space to just be themselves and talk about their lives and what they are going through. So I think that's really important to just have that safe space, not only in the club but also in the support group as well," said Mary Kate Machi (20').
The support provided by the GSA has had a significant influence on the lives of several students.
"At the very beginning of my transition I've heard a lot of things: I've heard 'he/she', I heard 'it', I've been told 'you'll never be a real man.'   I was kind of in and out of GSA club so I didn't have that support…I didn't really respond to people who said those things because…I thought it was okay for people to say these things to me. I kind of felt like I was in the wrong, that I was a horrible person.  Coming back sophomore year, I realized that's not okay, people can't do that to you. So GSA was really instrumental in helping me regain my confidence," said Kris Kiyoi (21').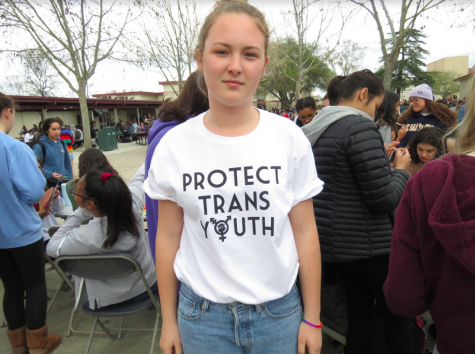 GSA leadership and members generally agree that the LGBTQ community has gotten adequate representation, but progress still needs to be made.
"Sexuality-wise, I think it's pretty inclusive, but I think we could do more in improving gender-wise [by] recognizing that there are people who are non-binary or maybe binary-trans and making safe spaces for them too," said Kris Kiyoi (21').
Amador's LGBTQ community also addresses that no matter the school's efforts, not all students will be inclusive.