On Friday, Sept. 8th, the eager faces of Amador's Class of 2024 gleamed with anticipation as students embarked on a thrilling aquatic journey at Six Flags Hurricane Harbor. Their journey began with an early arrival, as Amador students were amongst the first to seize the excitement of the waterpark.
"We wasted no time. As soon as we got to the park, we dove right into the action," said Mukhil Murugan ('24).
Before embarking on their aquatic adventure, the day commenced at Ken Mercer Sports Park, where a shared Senior Breakfast brought students closer together. Donuts, juices, and fruits fueled their camaraderie.
"It felt like a family breakfast, and they actually had really nice food. I had a couple of donuts myself," said Lexxis Marajas ('24).
As the lunch hour arrived, a harmonious sea of hungry students congregated, pausing momentarily from the waterpark's thrill to savor their meal. Moreover, Hurricane Harbor's picnic groves bore witness to a delightful chaos where hamburgers and hot dogs vanished amidst the symphony of laughter and animated conversations.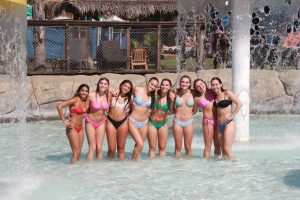 "Lunch was a frenzy, but the food hit the spot. It was awesome to sit down with friends," said Foothill Student Akash Goda ('24).  
The thrill-seekers of each group aimed for 3-4 rides during the day, finding tranquility in the lazy river after moments of high-octane excitement.
"As a group, we tried to maximize our rides. Even though some rides were closed throughout the day, which was super annoying, we made the best with what was available," said Murugan.
Beyond Amador Valley High School, neighboring institutions like Washington High School, Foothill High School, and Mission San Jose High School joined the aquatic adventure, filling the park with thousands of animated students from all over the Bay Area.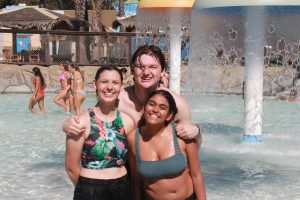 "I have friends in other high schools. So, it was cool to see them at the park, because I do not get to see them often," said Goda.
Moreover, as the sun cast its final brushstrokes on the canvas of the sky, seniors made their way home, their hearts aglow with indelible memories, and their faces adorned with the warmth of joyful smiles. With the Senior Picnic firmly etched in their minds, the Class of 2024 remains steadfast as they journey through their senior year, carrying the momentum of their exciting start forward.