Local nonprofit works to aid music education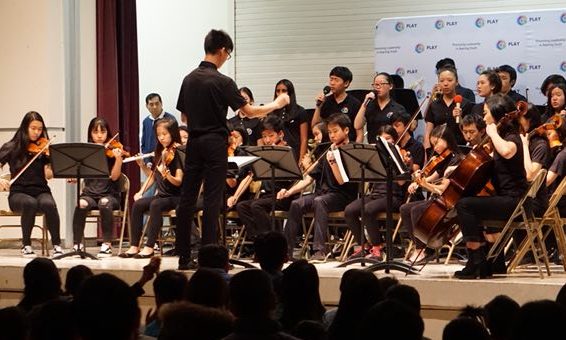 Hang on for a minute...we're trying to find some more stories you might like.
     Nonprofit Organization "Promoting Leadership for Aspiring Youth" (PLAY) held a charity music concert in Pleasanton on the evening of March 4th at Harvest Park Middle school.
     Their aim was to fundraise for the nonprofit organization program Pleasanton Partnerships in Education due to the state government has tightening the budget on music education.
     "As a performer and a student organizer, I think it's a really good concert,  it shows how these students and parents want to support the local education. And it provided a meaningful experience for all the performers because this concert not only give them an opportunity to show their talent in music but also provide them a perfect life experience about using their ability to support local education." said Sandy He, the performer of Choir and Chinese Ensemble.
     The performing group includes: PLAY Music group, Chinese Ensemble, Orchestra, Choir and Band.  All the players are high school and middle school students from Tri-Valley Area.
     This year, the NGO of the PLAY Orchestra is is specifically funding the school district "Pleasanton Education Partnership." Because the state government has tightened and cut down many education budgets, many good activities in schools rely on community fundraising.
     The PLAY Orchestra rehearsed in preparation for this music evening to raise money for its own school in the spirit of ownership. It hopes to contribute funds in order to aid music education.
     "I think this is a really meaningful concert because all the performers are done a really good job and they helped us raising totally $10000 to support Pleasanton education." Said Richale Lee, a organizer of this concert.
     The event was strongly supported by the Pleasanton Unified School District and Chinese community.
     "It's a good organization that supports music education. I have been with this group for 2 years, and I have really enjoyed playing alongside with my friends from other school district." said Caroline Geng ('20), a player and young leader of PLAY orchestra.
     A lot of people come to the concert and actively participate in it as well, it fully demonstrates the importance of supporting local education.
      "This program represents what happens when our young people voluntarily take responsibility for mentoring their younger peers. I was so impressed with the work of our high school students who shared their love for music, dance, and performance, while being positive role models in the community. They raised significant amount of funding to support our schools in the process. This is a perfect example of the character traits we strive as a community to develop in our youth!" said David Haglund, the Superintendent of Pleasanton Unified school district.