The Indian Ocean Trade Network is an important event for AP World students to learn and retain. Luckily, through the Trade Game, AP World teachers found a modern method to teaching an old subject.
"The game is organized so each class is a different geographic region, and they have goods they produce there. And then we've organized it so that supply and demand will dictate the game," said AP World teacher Delise Anderson.
Through this hands-on simulation, students could experience the liveliness of the Indian Ocean Trade Network for themselves. And at the same time, they learned and familiarized themselves with the trade structure.
"I thought it was a great opportunity to reenact history, but in real life. It was really interesting to play it with everybody," said Ryan Chakravarthy ('26). 
To ensure the activity's success, AP World teachers established structured and organized rules for students to follow.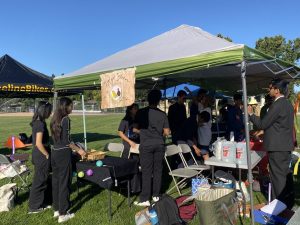 The simulation took place on the JV baseball field, which was divided into different regions.
"Merchants" could only leave regions after receiving a "risk-or-reward" card from a teacher or volunteer, which could either grant them new technology or set them back. Every group had a list of supplies to obtain, which drove supply and demand. Students had to navigate the economy, pirates, and trading mayhem, all while working towards one goal: to get rich.
 "I love that we get to celebrate different cultures, especially the ones that are going to be so important in our class. Of course, that's also really representative of our student population, which I think is so great, and I love to see students having fun and interacting with each other. It's a tough class but we have a really fun time. I think it also sets the tone for how we want our class to be for the year," said Anderson.