DECA wins big at the annual NorCals
From January 13th to 15th, Amador Valley High School's DECA members joined others from all over Northern California to compete at the NorCal District Career Conference. This is a three-day regional competition hosted at the San Ramon Marriott Hotel.
After the long weekend, Amador's DECA team brought back a total of 42 awards: 16 students placed in the top three and five students received first-place awards.
"There are three different events for NorCal. We had to prepare for our written exam, a role play contest, and an MCQ test. We've been preparing since October and we had to turn in our written portion of our exams by December 9th," said Varadan Kalkunte (25'), 3rd place winner for the EIB (Independent Business Plan) event.
A significant part of the competition is the role plays. Students are presented with a business problem and have to make decisions to move forward. Then a judge grades them based on their performance. The experience also encourages students to bond with strangers.
"I now consistently talk with these kids from Washington high school whom I never knew before, and I think it's great that I was able to make more connections with them through DECA," said Kalkunte.
In addition to the competition, the weekend provides other opportunities like networking, meetings, social events, and an award ceremony. 
"It was definitely really fun, we had a DECA dance this time and it was interesting to see that being added. There was a mini mosh pit and things like that which was cool," said Shambhavi Singh (24'), 8th place winner for the RFSM event.
DECA, which stands for Distributive Education Clubs of America, was founded in 1946. The organization currently has more than 200,000 high school members from all over the world. Events like this bring all of these students together to work and learn from each other. The students in the program come from all different backgrounds, but they share a common interest in business.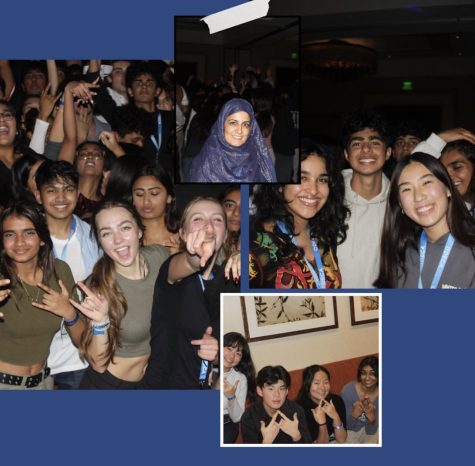 "I think I definitely fell in love with the environment at NorCal, it's insane seeing so many people passionate about these areas of business. I get that it's a competition, but just seeing a lot of people getting together focused and dedicated on something really felt amazing," said Anisha Madiraju (24'), Director of Business Academy and 4th place winner for the FMS and IMCS events. 
To be eligible for Amador's DECA team, students have to take Integrated Marketing Communications or Economics in Business Ownership. Both classes are taught by the DECA advisor, who helps her students prepare for events.
"Our chapter has really come a long way after much hard work. It was incredible to watch and observe my students get excited to compete. I got to see growth in their confidence levels and watched how they encouraged each
other," said Ms. R. Marjan Akrami, DECA Advisor
Amador's DECA team has gained popularity over time introducing more students to the business world. From local events like minicons to international events like ICDC, DECA unites students.
"Meeting people from other schools was a really great experience and it shows how something like this business concept can unite people [from] all walks of life, said Aniruddha Chiplunkar (23').
The AV DECA team will be competing in Anaheim at the end of February. 
(*The DECA Officers were unavailable for comment by the time we went to post the story.)