Parents welcomed on campus for Back to School Night
After school on Wednesday Sept. 7, parents and guardians of Amador students toured campus during the annual Back to School Night.
"We had Back to School Night and it was really fun to see. I had a good amount of parents come tonight which is always fantastic, and they were really engaged in hearing about what their students were going to be learning and having happen this year," said Social Studies teacher Delise Anderson.
The evening began with speeches and introductions from Principal Jonathan Fey, the vice principals, counselors, Amador Friends of Music, PPIE, Amador Valley Athletic Boosters and the Centennial Committee.
"Effort on the part of the students is an essential element to their success. My hope is that by making connections with your students, I will be an additional cheerleader in our joint efforts of school, student, and parent to make your child be the best Amador Valley Don they can possibly be," said Fey during his introductory speech to a crowd of parents.
Following a six period schedule with seven minute passing periods, each teacher had ten minutes to share about their curriculum, syllabus and general information about their classes.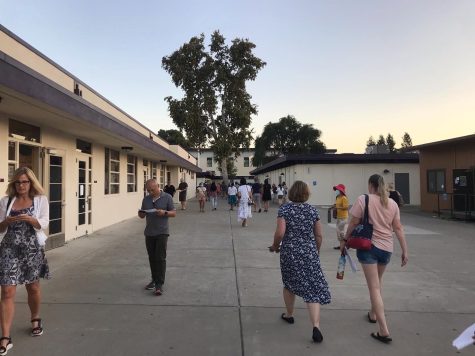 "I felt like I was speaking like I was running on a treadmill. Normally, I tell parents a little bit about myself, and a little bit about the content and the curriculum that we do, and then I spend most of the time honestly talking about the skills of the classes that I'm going to teach," said Anderson.
Adult attendees had the chance to walk a day in the life of their students and learn more about life at Amador. From exploring classrooms to understanding campus, parents were able to spend time getting to know their student's teachers and classes.
"It was a great experience, I enjoyed it far more than I expected and I ran into several other parents that I knew from the community so it was a nice little social evening too. For me, the best part was getting to know each teacher's homework policy, which I found was a little different from what my son was telling me," said parent Tony Guetersloh.
Some teachers provided short in-class lessons to physically demonstrate what occurs in a typical class period. To give a better understanding of his teaching style, Art teacher Michael Doyle completed a mini sketchbook with his visitors.
"The parents really got to see my style of teaching, how we practice, and how that practice turns into a project. I hope it makes them more confident that their students can be successful in the class," said Doyle.