Band's Concertos and Confections concert raises money to support Ukraine
On Wednesday May 4, Amador's musicians performed in a music concert hosted in the multi-purpose room. Two dozen solo and group performers from all grades showcased their talent with their pieces and were met by overwhelming support from the audience.
There was no charge for tickets, but instead, the concert was a charity event raising money to support the refugees in Ukraine. The concert was decorated with Ukraine flags and yellow flowers showing the care for Ukrainians.
There were 16 songs being performed in this concert. Many performers like Vidyuth Guruvayurappan ('22) chose traditional classical pieces. Guruvayurappan chose the first movement of a trombone concerto by Danish composer Launy Grondahl.
"I chose the piece because I really fell in love with the concerto after hearing it. And, it's also the concerto that I performed for my college audition," said Guruvayurappan.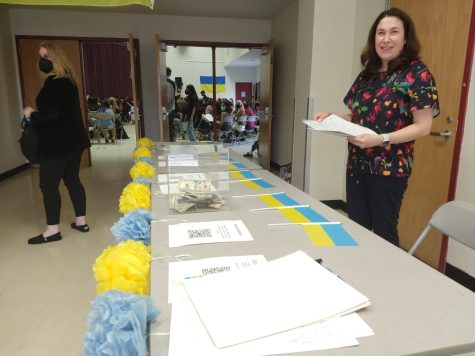 Attendees could hear more than traditional pieces in the concert, though. Musicians from Jazz Band played jazz pieces "Flying to the Moon" and "Sweet Lorraine."  Most performers spent a huge amount of effort on practicing for the performance.
"I had a few rehearsals with the orchestra, and after those rehearsals I really fine tuned what I can be more clear on, with just respect to how the orchestra and I are matched. I was really prepared for the concerto on my own, and now putting it together with the orchestra [required]a few other different aspects too, which I had to work on in my individual practice," said Guruvayurappan.
Altogether, the night contained beautiful music and helped efforts in Ukraine.
"I came to help send benefits to Ukraine because I think it is really horrible what's happening in Ukraine, and I think it is really important to support them," said Madi Perkins (24).