The R building: the start of a new era at Amador
As February begins, the construction of the new building at Amador is almost coming to a close and students around campus have been wondering about additional details regarding the project.
"I am pretty excited about the new building on campus — I really hope I have a class there. It's more futuristic than what Amador has now as we have a lot of older classrooms on campus," said Sam Montoya ('23). 
Aesthetically speaking, the 'R' building, as it has been named, inches closer toward completion as construction workers add final touches to the building's exterior and interior design.  
"Right now, the only things we are waiting for are some final concrete pouring and the fire martial clearance – basically, they test the elevators, fire systems, and all of those things before students can be in there full time. We're also focusing on installing classroom teaching technology and putting in furniture," said Amador Principal Joshua Butterfield. 
Designed to bring an increased amount of space to the Amador campus, the new building is going to be composed of a multitude of standard, science, and SDC classrooms where students can expect to find some of their courses in upcoming school years. 
"I think Amador decided to construct the new building on campus, because we have had a lot of new students and a very impacted school. So, we needed new classrooms for kids to learn and we needed to give them the opportunity for futuristic buildings to perform in all of the new classes that are going to be built," said Montoya.
---
The technicalities of constructing a new building
The R building is going to be equipped with a bioswale filtration system. This newly implemented system decontaminates rainwater, and has a multitude of additional environmental benefits.
"I think that the new filtration system in this building is going to be really good for the environment, because we did not have it in our old science building — it is really cool how the new building is going to allow us to stay environmentally friendly," said Brooke Inman ('22). 
Additionally, the new building will sanction the removal of the portables nearest the football stadium, ultimately increasing the amount of surplus space available to students and teachers on campus.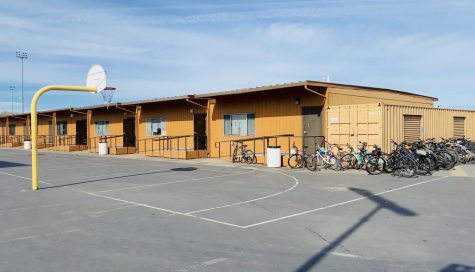 "The new classroom building that we're constructing was a part of an I-1 bond that Pleasanton voters passed eight years ago and part of that was portable replacement. For all the portables, the district pays an annual fee and so, part of the bond measure was to replace them," said Butterfield. 
Despite the challenges, district and school officials have been trying their utmost to ensure the completion of this project and have worked tirelessly to ensure that Amador takes the next step in its journey toward enhancing the overall student experience on campus. 
"One nice thing is that with new construction comes newer technologies and newer facilities where we're starting off with a nice clean slate – where we have energy efficient windows, modern materials that are not from 1970, and SDC classrooms as well. This building is really for the students, and we've tried to ensure that we remain committed to giving our students what they deserve," said Butterfield.