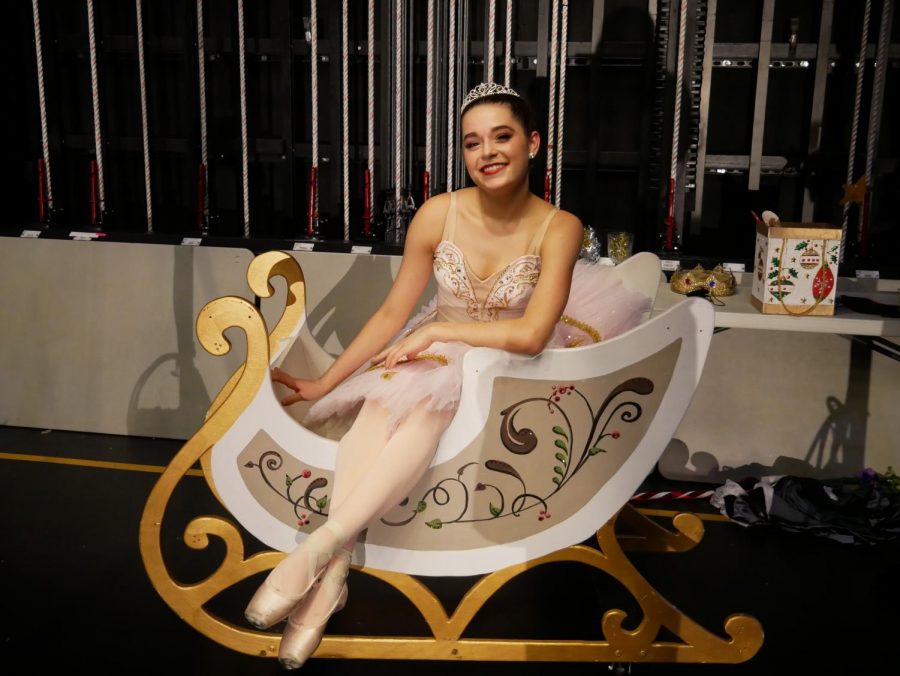 Ashley Torres ('22) dances in the spotlight in the Nutcracker
Every year Tiffany's Dance Academy hosts a production of the Nutcracker, a classic Christmas story about a young girl, Clara Stahlbaum, and her special Christmas Eve. Senior Ashley Torres ('22) has been participating in the show for 11 years and is playing the major role of Sugar Plum Fairy.
Ashley's dance career started at a young age and she has loved it ever since. She has stayed at the same studio for 16 years.

"I got into dancing because my mom put me in baby classes starting at the age of 2 and I have been at the same studio since then. I pretty much have never skipped a year, or taken a break from it " said Ashley Torres ('22). 
During the Nutcracker season, Ashley practices even more than her regular 12 hours of dance a week.  
"The difference between my normal dance schedule and Nutcracker season is that we have Saturday rehearsal from 11-5, sometimes with breaks in between. We also add in more ballet during the week" said Ashley Torres ('22). 
View this post on Instagram
Over a weekend they perform multiple times, switching roles between performances. Even though Ashley has been dancing for a long time she still runs into challenges.  
"I am a snow princess, marzipan ballerina, dewdrop, and sugar plum fairy. We rotate between those roles between the different performances. The hardest part is my stamina. It is hard to totally exert yourself while also smiling the entire time" said Torres. 
Ashley's talents are going to allow her to continue her dance career after high school. She has worked hard for 16 years and is not looking to stop dancing anytime soon. 
"I don't plan on pursuing a career per say but I will definitely continue in college hopefully with a minor or double major. Later in life, I will definitely work as a dance teacher as a side job" said Torres.