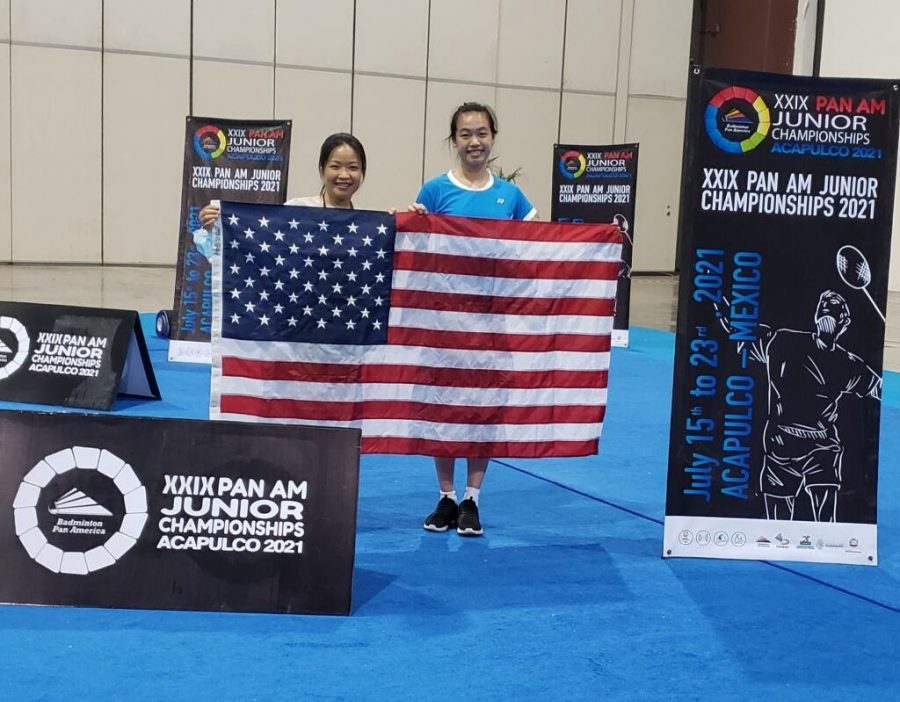 Joline Siu ('23) competes internationally in badminton
As she stood in the center of the gym, birdies whizzed through the air. The sharp sound they made hitting lightweight racquets was magnified by the amount of players in separate courts. The squeaking of shoes against the ground. The quickness of the players' reflexes. And the concentration on their faces. At just 10 years old, Joline Siu ('23) knew that badminton was the sport for her. 
When Siu first moved to Pleasanton in 2015, her mother, Sandy Xue, remembers that "during one summer she tried different sports like tennis and swimming, but she liked badminton more so we signed her up for a badminton summer camp and it all started from there." Siu enjoyed her summer camp so much that she wanted extra classes after it was over. 
"I felt pure joy whenever I was playing badminton and whenever I passed my limits," said Siu. 
Mrs. Xue distinctly remembers one of the main moments early on that sparked a realization that her daughter was going to become an amazing badminton player. When Siu was just starting private lessons, she was able to beat someone who'd been training for years, impressing those around her and showing her prowess in the game.
Siu first started training with Lei Zhou, who has been her coach for about 6 years now. Zhou remembers that even at a young age, Siu had more concentration and discipline than her peers. 
"She has always been very focused, concentrated, and disciplined, which surprised me because kids don't like that kind of stuff but she knew that was very important and she did very well, and I think that's something special about her," said Zhou.
Siu works incredibly hard, which can be seen by looking at her packed schedule. She does five days of group training, each session being two hours. She then spends another day for a private session with Mu He, who's been coaching her for about a year now. Even with a rigorous schedule, Siu stays vigilant. 
"She's extremely focused and easily understands what I teach her," said He.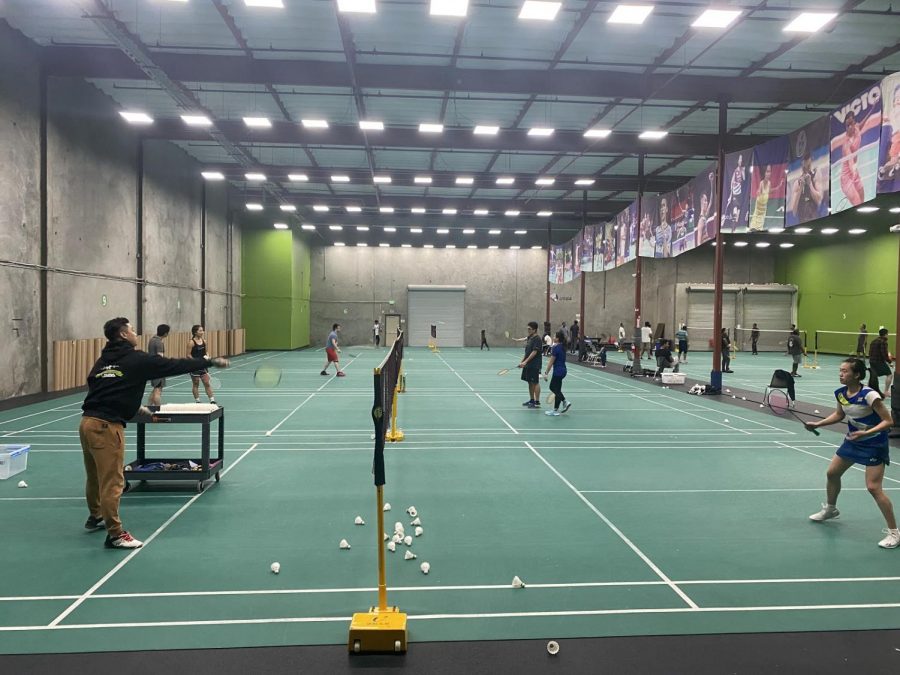 Siu spends her Saturdays training with Zhou in Union City, which adds an additional 6 to 8 hours on top of her group and private training, which adds up to about 24 hours a week. While many may raise their eyebrows at the amount of hours, Zhou asserts that time and dedication are required to achieve higher scores. 
 "As a player, her speed is very special, especially as a girl player on the court. Her speed is special and her foundation technique skills are very good. These are very important to helping her succeed," said Zhou.
Siu's arduous efforts are rewarded by her high placements at tournaments. She usually places in the top three for singles, mixed, and doubles matches. However, Siu is always aiming for the top despite her already excellent scores.
 "I'm exercising to strengthen my body and practicing my basic foundational skills to prepare for my next tournament," said Siu.
High school is a busy and stressful time for many, but Siu doesn't let that demotivate her. While spending so much time sharpening her skills in badminton, Siu also does everything she can to get good grades, like hyperfocusing in class as her way of studying. She wakes up earlier in the morning, sleeps late at night, and does whatever she can during lunch or in the car going to practice. 
"She works very hard. You can see that when she trains every night to almost 9:30 during high school, when you have to deal with homework and extra hours," said He. 
Although Siu took interest in badminton early on, her mother had no idea what an impact it would have on her and her family's lives. Badminton affects not only her school but her home life as well. 
"Ever since she started going to badminton tournaments, she's super busy as well as our family and we never have time to do the family trip during breaks because we go to tournaments every holiday," said Xue.
When Siu got injured in the summer, she was unable to attend practices or play at any tournaments. It had a huge impact on her as COVID-19 raged on and she was forced to stay at home, unable to play the sport she loved. 
"During COVID, I thought about quitting because it was hard for me to stay motivated when I wasn't able to play on the court," said Siu.
Although things were looking bleak, Siu knew she couldn't give up hope on her passion. She thought about all her efforts throughout the years and what kept her coming back to every practice. 
"The bliss I feel whenever I'm playing a game and the adrenaline of winning and beating my own limits is my motivation to keep playing," said Siu. 
 Over the summer, Siu thought long and hard about badminton and how it's changed her life. It's something she chose for herself and ultimately gave her a sense of independence and serenity. 
"I used to do it just for fun, but since I've been playing for such a long time now it's like a second home," said Siu. 
Some of Siu's fondest memories of badminton come from her experiences after getting into her first junior Pan Am in 2019. Junior Badminton Pan Am is where there are teams from other countries like Mexico, Canada, Peru, and Guatemala.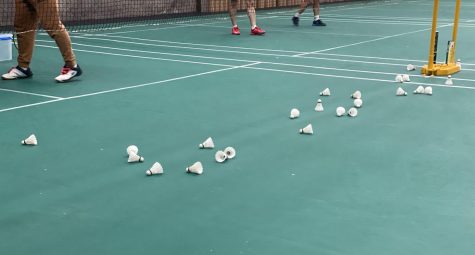 The top 2 girls doubles players, top 4 for mixed doubles, and top 4 for singles, are chosen to play. She got first place in mixed doubles at Junior International Tryouts and qualified for her first 2019 junior Pan Am tournament, where she got bronze with Robert Shektman, her mixed doubles partner.
"She's like a fighter on the court and never gives up. She seriously concentrates to get every point and not miss any opportunity to win," said Zhou.
Due to COVID-19, the USA Badminton Association chose Junior Nationals as the qualifying event for 2021 junior Pan Am. Siu got second place with Kalea Sheung, her doubles partner. 
"I'm happy for her. I feel that's what she deserves after so much hard work," said Xue.
From December 26th to the 29th of this year, she'll be competing in L.A. Zhou praises Siu's good technique and strong body and advises her to enjoy herself while competing. It's important to not push yourself too hard for the perfect shot at every swing. 
 "If she gives herself too much pressure that way, she might make more mistakes, so that's why I would like to give her advice saying, 'Hey, relax a little bit  and enjoy your skills and the game', that will help her play better on the court," said Zhou.
In looking toward the future, Siu wants to play World Juniors and also wants to attend the Youth Olympics, one of her main goals. She admires professional badminton players like gold medalist Chen Yufei and silver medalist Tai Tzu Ying from the 2020 Olympics, and analyzes their games to learn from them. 
As Siu continues honing her skills, she remains humble and is grateful for everyone who's helped her achieve her goals, like her parents who always drive her to her training and tournaments and her coaches, who teach her life lessons and help her improve her skills. 
"I would not be where I am because of them, and I would like people to know that whatever I have achieved is also because of my coaches and parents," said Siu.