Amador Girls Who Code club receives the Golden Bell award 
Before the pandemic, club membership in Girls Who Code numbered around 20. This year, the roster has more than doubled, with a group of 60 female coders joining each weekly session.
Girls Who Code (GWC) is a club committed to closing the gender gap within the technological world and creating a safe, collaborative community for learning. The Amador chapter has held summits, invited guest speakers, and organized coding review sessions for members. They've provided opportunities for every girl who wants to learn coding and flourish in STEM programs, no matter their ethnicity, age, or circumstances.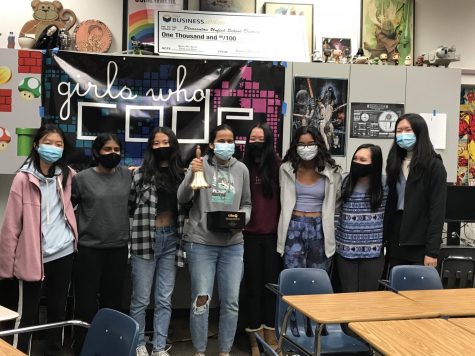 "Our club is limited to the scope of just high school students, so we wanted to have this impact of encouraging girls to code outside the high school age bracket and starting as young as possible," said VP of Outreach Nitya Ayyagari ('22). 
The Golden Bell is a statewide award given to programs and groups who go above and beyond in the community. GWC club advisor and computer science teacher Kevin Kiyoi attended a ceremony in San Diego last Thursday evening to receive the award. 
Out of 121 submissions and 21 categories, the Amador Girls Who Code club was awarded the 2021 Golden Bell award under the "Equity and Access" category. Four winners were also chosen separately to receive a grant of $1,000 based on exemplary work.
"It has been incredible to watch the girl's growth over the time that I've been involved. And the amount of opportunity they get to be the leaders, to take control, and to support the younger girls in learning coding is really inspirational," said Crystal Korbus, assistant director of the Career and Technical Education department.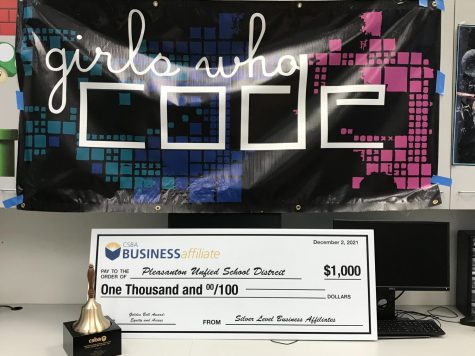 The GWC club was one of the $1000 winners and plans on investing the money back into the program and expanding their summits. A large reason why they are recognized by the award committee is because of their summits, bringing together girls of all grades to learn and code as a group. 
They have worked with local middle and elementary school girls to get more women interested in the program. What the club has created and achieved can be replicated in other places and is a way to celebrate women in STEM.
"To me, it just shows me that we can inspire other girls," said club president Anusha Maheshwari.