How global supply chain issues hit local businesses
Supply chain issues wreak havoc on day-to-day life. It seems that every point in the process – from manufacturing to shipping and distribution – is encountering new hardships due to the pandemic.
"The concept here in economics is called demand pull, or potentially cost push – basically, the idea that many dollars [chase] too few [items]. So… it's not good," said Amador macroeconomics teacher Michael Boone. 
Manufacturing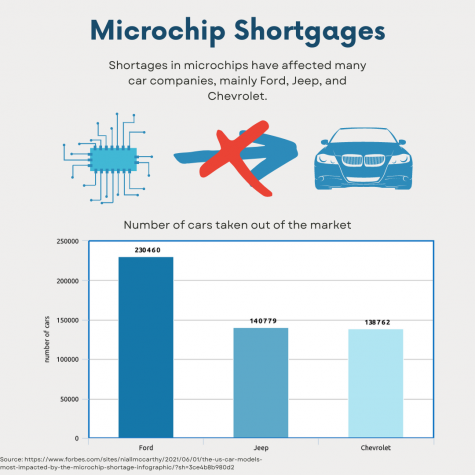 "The supply chain issues are impacting the logistics and distribution of computer chips due to the shortage of materials and labor needed to manufacture and transport the chips," said computer chip manufacturer manager Ralph Sikomanah.
Factory shutdowns in China in February of 2020 marked the beginning of the supply chain crisis. At one point, 760 million people, half of China's population, was quarantined at home.
"Shortage of computer and electronic equipment has a major impact on the tech industry and major consumers, especially during the COVID time where most people are working remotely and relying on their computers and electronic devices for telecommuting and video conferencing," said Sikomanah.
Besides the tech industry, the missing chips have shaken the auto industry. 510,000 cars have been removed from the market because of the lack of microchips, one of many examples of how a shortage of one item has profoundly affected the availability of multiple consumer products.
Shipping
COVID-19 has caused a demand for goods to skyrocket as well as massive congestion at ports. Now a container sits at a dock for about six days, twice as long as the three-day wait pre-pandemic. Some suggest air cargo as a solution. However, air cargo is neither practical nor economical. 
"It's definitely feasible if most of it [shipping] just was over the air cargo, [it would] just cost a lot more money," said a LAX DHL Airways Cargo Operations Officer.
Air cargo can arrive at a destination within 24 hours, but this comes at a cost.
"When you're moving something in a [ship] container, it's usually a large amount. When you are moving it on board an airliner, it's not as large as what you would see on a ship," said a SFO FedEx Cargo Operations Officer.
Distribution
"The postal service has been seeing more demand because people aren't traveling," said Livermore Postal Annex worker Vimal Solanki.  "So, they want to send their gifts to their loved ones or whoever they're sending it [to] rather than taking it to them."  
Since 2007, the post office has cut over 140,000 jobs, while the volume of packages has increased. This means existing workers bear heavier workloads in an already demanding job.
"It is physical, physical in the sense that you're lifting boxes, you're on your feet all the time, possibly staying late especially when you're in the holiday season," said Solanki.
Delivering everything from goods ordered online to gifts from home to home, the post office has had to remain strong during an unprecedented epidemic.
"Honestly, our business is an essential business, so we've been open through COVID. Our business has been either same as last year or even done a little bit better because kids aren't going to parents' houses so they've got to send them things. We've shipped ketchup, we've shipped toilet paper, I kid you not," said Solanki.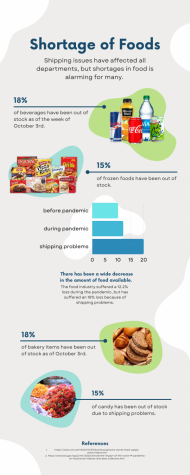 What this means for consumers
Fear that items will be sold out, unavailable, or sold for inflated prices has resulted in 45% of Americans starting holiday shopping before early October.  One in five also report purchasing more gifts than they need in case some orders are delayed or canceled. No one knows for sure how long supply chain issues will last, but shortages are predicted to last well into 2022. However, one thing to remember is that all economic problems reset themselves, and that it is only a matter of time until our economic setback becomes normal. 
"There is a consensus that inflation will be, the economic term is what's called 'transitory,' which means temporary, [and] I think that once the supply chain issues kind of figure themselves out…things will [level off]," said Boone.