New film "CODA" represents the Deaf community
After premiering in the Sundance Film Festival in January, "CODA" (Child of Deaf Adult) finally released in theaters and Apple TV+ last month.
"I was excited to see it to see if it was a good representation of the deaf community [and] the CODA community," said Sarah Baer ('22), who is a CODA herself. "Both my parents are deaf, and I have two siblings that are hearing, so they are both CODAs."
Making waves as a first
"Off the top of my head, I don't know another movie that talks about CODAs, or where it's centered around CODAs," said Amador Valley ASL teacher Kyra Britto.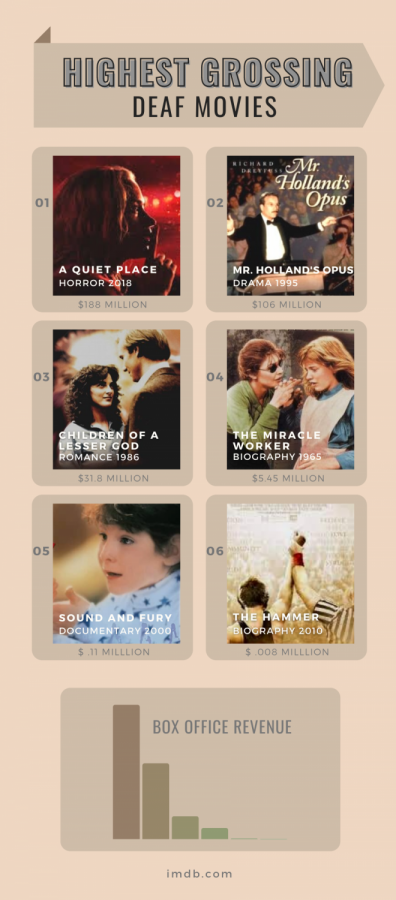 The coming-of-age film centers around an isolated CODA named Ruby. After highlighting her childhood experiences, the movie follows her as she faces the ultimate challenge for CODAs.
"I want to go away to school. I don't know where, but a considerable distance away from home. Of course my parents are really self-sufficient, so I don't have a lot of worries about them struggling without me or anything. But, I do wonder what it will be like for them to acclimate to not having someone who can interpret on hand, or help them with an email, or understand something," said Baer. 
In Ruby's case, she is torn between staying by her family's side to help their fishing business, or pursuing her calling to attend music school, with a passion for singing that seems to clearly clash with her parents' deafness.
Mixed cast, mixed reactions
Top Deaf actors Marlee Matlin and Troy Kotsur play Ruby's deaf parents. Yet when it comes to the main character, the directors chose to cast a hearing actress with a hearing family instead of an actual CODA.
"I feel like [a true CODA] would have been able to relate to the experience more….It would have been nice to someone who is fluent in ASL and grew up speaking ASL with their family," said Baer.
Actress Emilia Jones studied ASL for nine months to prepare for her role.
"I could tell just by looking at her that she was new, that she wasn't at that fluent level," said Britto.
After all, Ruby's ability to use ASL is a key part of the movie, given how important her role of interpreter from ASL to spoken English is. 
"
Like if you're speaking Spanish, you can tell if somebody has an accent. You can tell if they're comfortable with it.
— CODA Sarah Baer ('22)
Celebrating Signing
However, just the fact that directors chose to have the deaf family use ASL is worth recognizing.
"I was happy that the parents and the brother didn't use their voice. We all know Marlee Matlin, she can talk, so I'm glad they didn't include that in the movie," said Britto.
Additionally, the ASL signs used in the film highlighted ASL's power as its own language, more than simply a conversion of English into hand gestures. 
"It was great. It went away from the English and it showed you what true ASL is, and I loved it," said Britto. 
Deaf characters' use of "true" ASL means that their dialogue incorporated slang, inside references, and descriptors used by the Deaf community.
"There [were] some signs that are like 'jokes.' Or, there was one scene where the Dad was describing how the music felt in the car. It was a really funny scene and it was like real ASL. The way you describe things in ASL is much more based on the senses rather than sound obviously," said Baer.
Room to improve
"One thing that wasn't there is the CODA community," said Baer. "Not all CODAs have access to a community, but, I do. It's like other CODAs interacting with them, and interacting with other Deaf families."
Writers may have sacrificed these more common elements in favor of portraying Ruby as an outsider and her deaf family as isolated, which, for the movie's sake, heightened the dramatic effect.
"Understand that this is from one perspective, from one type of CODA, one type of Deaf family. That's what they're representing in the movie, is that one type, not everybody's experience," said Britto.
Final thoughts
"My dad loved the movie. He usually doesn't like movies, he falls asleep, but he was laughing throughout the whole thing and it was nice to see him enjoy something and relate to it," said Baer.
Few films tell the stories of Deaf individuals and their families.
"Even [for] people who aren't in ASL [class] or don't have any experience with it, I think this is a great movie to get familiar with, dip your toe in the water, and get a little bit of that exposure," said Britto.