EU and the AstraZeneca vaccine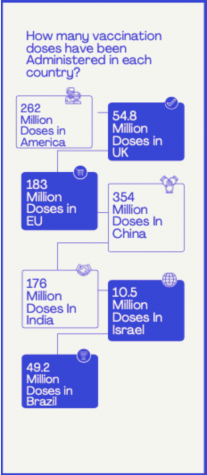 As the coronavirus pandemic has spread across the globe, various states and countries have demanded large amounts of vaccines. The EU in particular has made an agreement with AstraZeneca, the world's largest producer of coronavirus vaccines, to have 300 million doses delivered by the middle of 2021. 
However AstraZeneca has aimed to deliver 100 million, and only 30 million for the first quarter. The under-production of the Astrazeneca vaccine has resulted in backlash from the EU (officials claiming that Astrazeneca broke its contract). 
"Astrazeneca has no reason not to get its vaccines out as fast as possible. Its late shipments damage the company's reputation and its business. Keeping this in mind, the company has openly and constructively talked about the complexities in increasing the production of their vaccines and the challenges they've faced along the way," said Neal Conway ('21).
This dispute is not the first between the EU and the vaccine-making giant. Astrazeneca has faced fierce complaints from EU leaders because they could not supply the promised number of doses of the vaccine. Meanwhile, new virus variants swept across the european continent, eliciting great criticism from citizens. 
"I think the EU suing them is an extremely petty and counterproductive decision that sets a terrible precedent for countries who need these vaccines more than the EU does such as India who is suffering from a second wave," said Neal Conway ('21).
The lawsuit will be focused on whether AstraZeneca had made its "best efforts" to deliver vaccines on time, and the case will take place in Belgium as the contract was created under Belgian law. The defense will be strong, with "best efforts" being a vaguely defined term and with European judges needing to focused on "an immediate reading of the contract."
On top of this, there is substantial evidence of the company's efforts to increase manufacturing capabilities across the world, rather than within a certain area like the other vaccine makers. 
However, as strong as the defense is, the EU plans to take advantage of how Belgian judges look at the general situation rather than simple civil wording. 
With these disputes over AstraZeneca's production capabilities and breaches in contract, as well as a rare but severe blood clotting condition occurring in younger women, the EU has turned away from AstraZeneca and looked to Pfizer as its future supplier.