Movie Review: 'Bliss'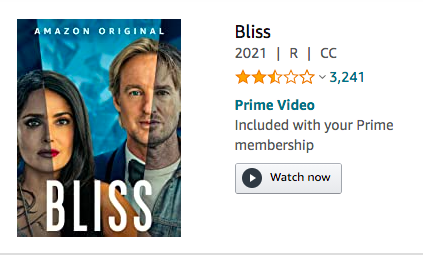 Overview
'Bliss' made me feel lots of emotions, unfortunately blissful was not one of them. I watched this 2021 movie directed by Mike Cahill with others and was relieved to hear them also say they had "no idea what the movie was about." The movie lasted an hour and forty-three minutes and our confusion started immediately. Unfortunately, the ending did not provide much clarity either.
'Bliss' uses simulation theory to tell the story of people caught between the existence of multiple worlds. Owen Wilson and Salma Hayek star in the film. The story is about a man (Greg Wittle) who has many troubles in his life and Isabel (played by Hayek) who is homeless, but she also seems to have drug induced powers.
The Story
The movie takes the two through adventures that are sometimes odd and other times relatively normal, sometimes simulated and other times real. Also mixed into the plot is a fractured relationship between Greg and his children, a son and a daughter. The movie goes between two different worlds, different people, danger (drugs) and sad family relationships.
Throughout the movie they go from living in horrible conditions on the streets to then transporting to a beautiful coastal home where they are well known doctors. Isabel explains that "bliss" is not a feeling or a place, 'bliss' is a state of mind that can only be achieved by understanding the concept with an opposite state of mind. Given an opportunity to live in "bliss" versus real life, Greg and Isabel must make a decision. This decision is further complicated by the presence of Greg's daughter, Emily. You'll have to watch the movie to see how it all plays out.
Verdict
In my opinion, 'Bliss' was very confusing and never allowed its audience to get attached to either the real or simulated characters. This isn't a lighthearted love story to watch at the end of a busy week. To fully understand the movie, make certain you are well rested and ready to pay close attention.