UC system crashes causing extended deadlines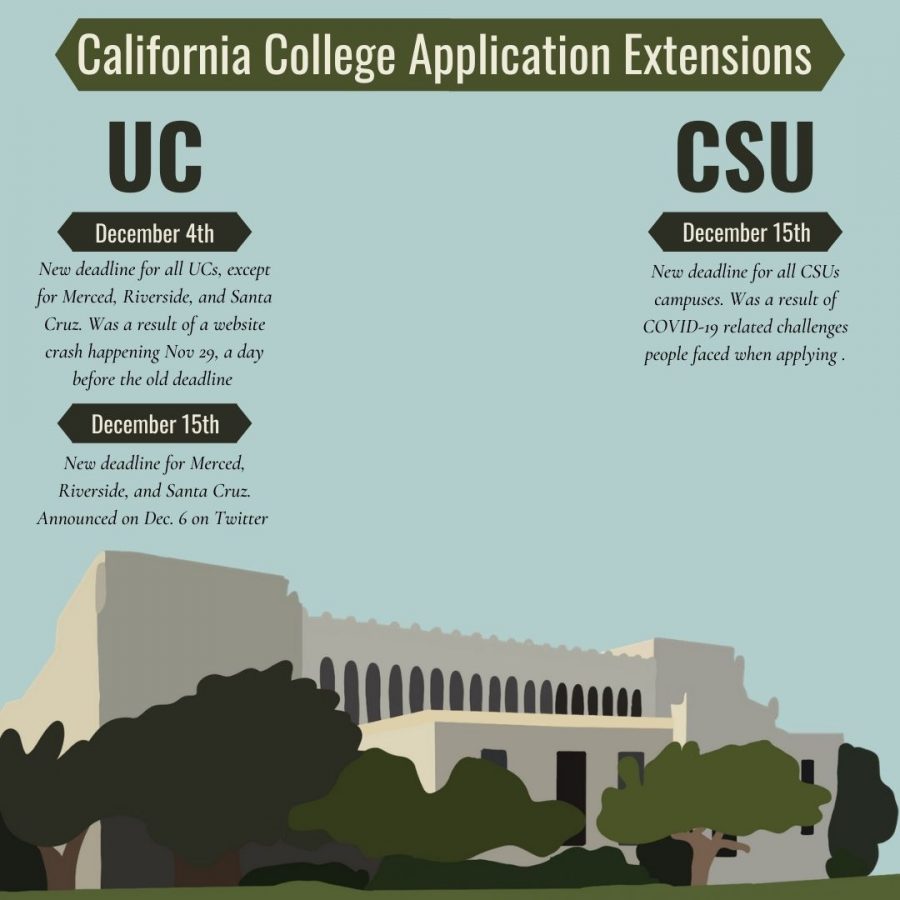 The UC application deadline has changed from November 30 to December 4. A site-wide crash on November 29 prevented students from accessing their applications. A few days later, an announcement that the deadline had been extended by five days was released on their Twitter, with a later announcement on December 6 that the applications for Merced, Riverside, and Santa Cruz were also extended to December 15th.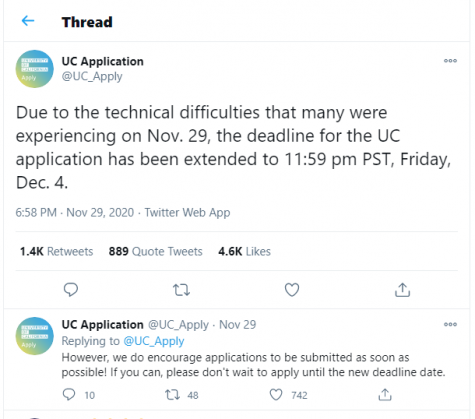 This isn't the first time the University of California's application software has crashed due to technical difficulties. Similar site crashes were reported in 2009 and 2018 respectively. There's also always a risk of the UC application crashing on the final submission day due to thousands of users accessing the site at once.
After the crash, news of the extension both surprised and relieved some students.
"I was shocked that they extended the deadline, but relieved that I had extra days to work on my essays and application in general," said Avery Sliwak ('21).
Having a few more days gave students the time they needed to work on and finalize their UC applications before submitting them.
Some students believed that the UC colleges made the right move by extending the deadline.
"My first reaction when I heard that UC had extended the application deadline was something like, 'Oh good,' because I thought it was the right thing for them to do," said Nitya Sunkad ('21).
A couple days later, the CSUs announced that their due dates were moved down to December 15th due to potential problems caused by COVID-19. The original deadline for the CSU application was December 4th, but extensions have happened in years past for CSU campuses in 2017 and in 2018.
Like with the UC application deadline, students were shocked to see the CSU application deadline extended as well.
"I was a little bit surprised that it was being extended to December 15th. I thought the extension was very generous, but I thought it was needed, because of the pandemic, there may have been people with internet issues, and maybe just weren't able to complete their application on time. It was definitely a good decision that they did so," said Maitreyi Dudwadkar ('21).
Both of these extensions were beneficial to students, as they gave them extra time to complete, finalize, and overcome any challenges when applying to colleges before they submitted their applications.