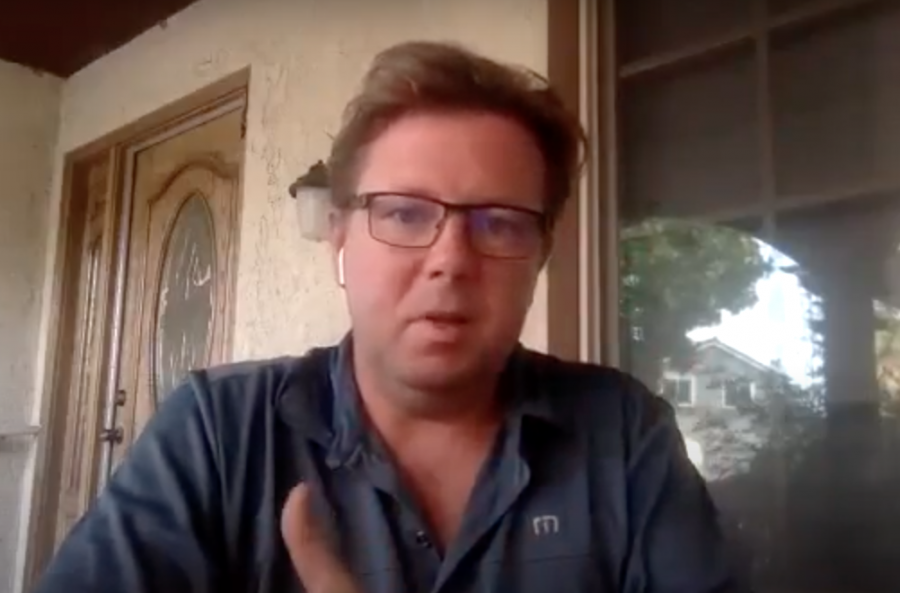 Pleasanton Mayor candidate Tom Turpel wants to preserve the city and its culture
Tom Turpel, a Pleasanton resident, is looking to win the Pleasanton election this November. He will be going up against Karla Brown, Monith Ilavarasan and Jerry Pentin. 
One of the main things that stands out about Turpel is that he is not a politician or a businessman. He is an everyday citizen of Pleasanton, who feels strongly about the city and its growth. 
"The main thing that separates me from the competition is that I'm not a politician. I'm not a business or real estate developer or real estate agent with an agenda. I'm just a citizen who saw concerns within [my] city and want[ed] to take a stand. This is the way I wanted to show my kids they can take a stand. And I didn't know any other way to do it," said Turpel. 
His work as a Digital Marketing manager has enabled him to gain experience in projects, and more importantly, management of people. 
As a mayor, one needs to have traits of leadership, charisma and intelligence. 
"One of the things that is unsung about that role is that you have to handle project Management…you need to make sure that you're able to communicate with different types of people in order to get your point across and make sure that you achieve the same objectives," said Turpel.
One issue that he feels strongly about is the changing nature of Pleasanton. As Pleasanton grows and becomes a bigger city, it is losing its landmarks and businesses that make Pleasanton, Pleasanton. 
While a healthy and sheltered population is a good thing, it should not come at the cost of our parks or other sites that make Pleasanton beautiful. 
"One of the things that really alarmed me when I moved back was that I moved into the Valley Trails neighborhood, which is Silver Bugs Sports Park, and within a month, I saw a church and a park [get] demolished, and developed into track houses…I really think we need to take a step back and think about what it is that makes the quality of life in Pleasanton so valuable, and we need to take care of that. We need to preserve the quality of life," said Turpel. 
The quality of high school students are also a cause for concern. Downtown has become less about the youth and their events. This is becoming even worse amidst covid.
Youth activity has been focused around the dairy and the library. And this is a cause for concern because Pleasanton downtown used to be about so much more. 
"It (Downtown) made it so that there were like safe and sane events for Pleasanton youth to gather and be part of that, and, you know, just made them feel like it was outside of school and kind of gave them their own nightlife. I really want to see that happen again, I don't think that's happening anymore," said Turpel. 
PUSD is currently one of the better school districts in the Bay Area, but there is always room for improvement. 
Turpel thinks that the school district prioritizes the smart and hard-working students over their counterparts who are less smart, hardworking or might have learning disabilities. 
"I think there's a lot that's measured on testing scores. You know, and being like at the elite level, but with that being said, there's a lot of kids who get left on the wayside. And we need to be focusing on those children just as much in order for them to succeed, just as our top performers do," said Turpel.
During Covid-19, when people and companies are focusing on work-at-home options, Turpel believes that there is no need for a train that goes from Dublin Bart to Stockton. His belief is that this is a waste of tax money, when there are other things that could be fixed. 
"Because more businesses are shifting their employees to work from home, as opposed to going into the office. Do we really need a valley link?" said Turpel.
"What is the cost that's going to be to the taxpayers? How is that going to be paid for? We need to really take care of careful scrutiny of that." 
Tom Turpel cares about the community and its people.
"I just am a citizen, who is very passionate about the community, who sees what's going on? Who wants to have some sort of empowerment over how our city is governed and how we retain our quality of life," said Turpel. 
Pleasanton Mayor candidate Tom Turpel wants to preserve the city and its culture