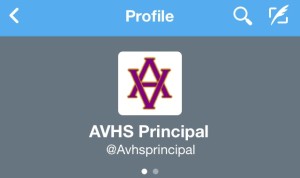 Mathea Turkalj, Around the Campus Editor

January 27, 2014
With the increasing popularity of social media sites, principal Tom Drescher and Vice Principal Sebastian Bull have taken to Twitter to connect with the students and parents of Amador Valley. Drescher and Bull have teamed up to bring news through the Twitter account @Avhsprincipal. Students and p...
Nicole Morote, Staff Writer

January 27, 2014
Marching band, one of the school's most widespread programs, has selected a small group of people to go to a Chicago band festival. This is a very prestigious opportunity, as only four schools in the United States have been invited to play, and Amador Valley was accepted on the first audition. Amador...