AV students connect by playing Among Us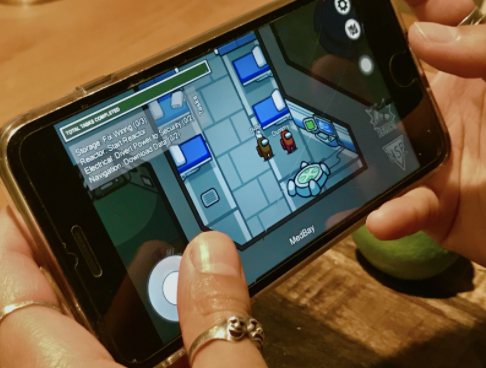 Among Us: a game that's become so popular that, nowadays, it's almost impossible to miss. With a simple user interface and easy-to-learn gameplay, the mobile/PC game shot from 1800 to nearly 60 million daily players in a little over a month. 
The objective of the game is simple. If you're a crewmate, you perform various tasks and attempt to vote out the impostor. If you're an impostor, you must sabotage and kill the other players until you either win or are found out. 
Part of the game's success can be tied to the connectedness players might feel. The pandemic has made it hard for many to interact with friends and family, and online contact often lack the fun of in-person activities. 
Online games such as Among Us not only provide entertainment, but also provide students new ways to hang out with friends and meet new people— in a virtual setting, of course.
"[M]e and my friends have played a variety of games throughout the pandemic…playing during this time [has been] so much fun and it deepens our bond and social interaction whether [we're] 20 miles or 200 miles apart," said Ashwin Charles ('23). 
Many enjoy the in-game chat feature as well. During discussion periods, players use the chat to talk amongst themselves and decide on who to vote off. 
"I enjoy the overall gameplay and structure…especially during voting for the imposter, which forces us to collaborate and speak [with one another]. [During these times] where I'm not allowed to go outside, it's helped me have fun with my friends," said Wilson Xie ('23). 
Though some students have found ways to safely meet with others through sports or socially-distanced get-togethers, many remain stuck at home. 
For many, Among Us is a well-needed support during this time of major social isolation. 
"Among Us helped to connect [with my] peers…it [is] the perfect game for the perfect time," said Charles ('23). 
There's no way of telling what the future holds in regards to social gatherings. Nevertheless, with games such as Fall Guys and Among Us keeping people connected, students have ways to interact with one another and stay entertained through these troubling times.