What is leadership doing to replace aloha week?
Aloha Week: a rally, a dance, and a spirit week. It's considered to be a freshman's high school validation and a senior's initiation to teenage royalty. 
This year, in light of the global coronavirus pandemic, it has been translated into only a virtual spirit week.
"As seniors it is especially unfortunate that we won't be able to take our front row seats in front of the bleachers, nor will we get our long awaited Burger King crowns," said Hannah Kramer ('21).
This classic back-to-school event, while not gone, is definitely different. Even the behind-the-scenes processes have been significantly modified.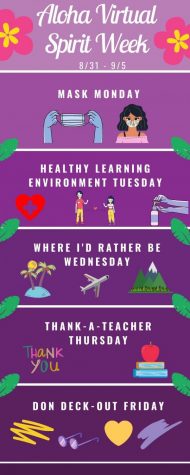 "It was definitely interesting having to be introduced [into the Don Squad] online, and while it wasn't the same experiencing it online as through the Aloha rally, it was all we could do," said Don Squad member Nathan Cohn ('21). 
Leadership has had to redirect all events and traditions to an online environment, and while this requires practice and patience, the rest of Amador has been adapting alongside them.
"We aren't really doing Aloha this year–instead we're focusing on a back-to-school week," said ASB President Megan Sloan ('21)
Leadership is working to better reach students through their social media platforms. How their back-to-school week goes will determine how they move forward with other events.
"We're really trying to figure out what the best way to get students involved is. For now we're definitely utilizing social media and having it be promoted by leadership kids in their classes," said Emma Rathjen ('22).
There may not be a rally or a dance right now, but students can look forward to other upcoming leadership activities.