Teachers and staff spread spirit with senior graduation signs!
To our dismay, Covid-19 has gotten countless events canceled. We've all lost things, but some of the people have suffered the most are our seniors. They never got to say goodbye to their friends, don't get the senior ball, and perhaps worst of all, they don't get graduation.
Thankfully, our school won't let a virus and canceled graduation stop them from honoring the senior class of 2020. On Friday, May 8th, our teachers and staff spent their day delivering graduation signs to the seniors all over town.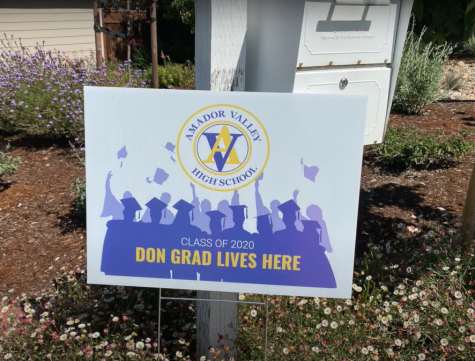 Throughout the entirety of the day, Amador's staff came to school in shifts to pick up signs. Even in the heat, they put on their masks and worked to boost morale for the seniors and the overall community.
"I was really happy to be able to deliver signs to our seniors. They've lost a lot this year and I just thought it was a small way for us to show them that we care about them so much,"said social studies teacher Jennifer Zuanich. 
Our seniors are thankful for these signs and a chance to be recognized as a graduate by their community.
"It helped a little with the idea of losing the fun parts of senior year, and it was something everyone got so that's a cool thing to see around town as well," said Aiden Mcarthy ('20).
Mcarthy brings up the point of how these signs are all around town, and help to bring the community together. It's a small way for everyone to celebrate our seniors, even if we're just passing by their houses.
"The signs are cool. It's nice to get the community together when we are apart," said Jack Grey ('20).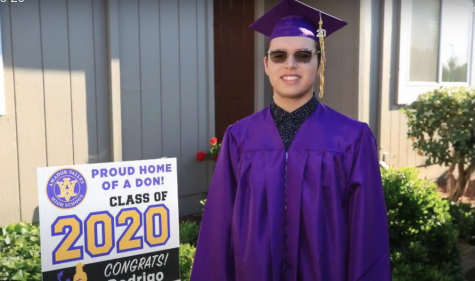 Our seniors have worked hard and many of them are heading off to college soon. We're all proud of our Amador seniors, but nobody's more proud than the teachers.
"I wish I could do more to show this group of graduates how proud I am of them. I am lucky to know this remarkable group of young adults," said English teacher Stephanie Kamali. 
In unfortunate times like these, we need certain things to keep us going and make us happy. These class of 2020 graduate signs seems to be just the thing we all needed, leaving both the teachers who delivered them and the students who received them happy and fulfilled.