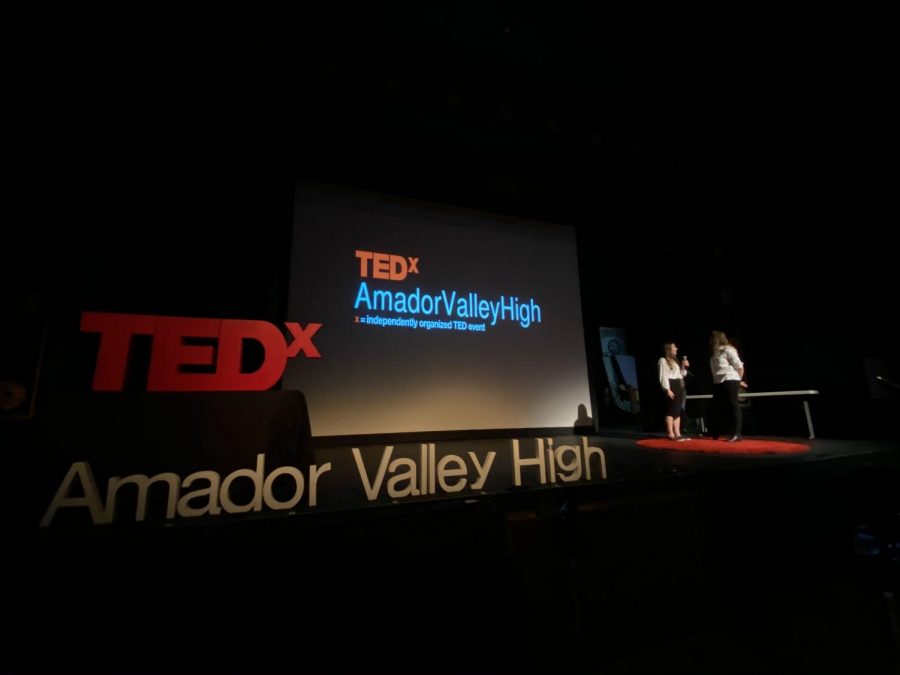 Sarah Banholzer
The entire Freshman class spent Tuesday, January 28 attending sessions at the annual TEDx Amador Valley High, which was once again, a huge success.
TEDx is an event where Amador student speakers and invited adults speak on various topics to the students. There were also six performing groups throughout the day.
"I enjoyed TEDx because I learned about different topics and it is really cool to listen to experiences other students on campus have had. I liked Lauryn Marie's singing performance the most," said Allyson Wong ('22).
The event is run by the Amador TEDx team, which is comprised of Amador students and advisor, Erik Scherer. It takes an entire year to plan the event and the TEDx team puts in hours of work to put on an amazing show in January. Amador is one of the only schools in the area to run a TEDx at their school. This is the fifth year Amador has hosted TEDx Amador Valley High.
"I worked with a team of student organizers to put on the event. I feel that this event was better than ever. Each year we learn something new and we bring that to the event in the following year. I feel like we put on a great show for our freshman" said Erik Scherer, TEDx Advisor.
The AV Video Production 2 class filmed and edited all of the speaker and performance videos which will be uploaded to the official TEDx website.
"TEDx is a big project for our Video Production students. They learn how to run a multiple camera program with speakers and performers, deal with audio and technical issues, and then edit in the professional format that TEDx demands is a tough assignment. Our students really rise to the occasion and I'm so proud of what they are able to accomplish," said Amador Video Production Teacher, Wendy Connelly.
The TEDx event is enjoyed by all the students and teachers who attend. There are six student speakers and six performers. Student speakers must make it through two auditions and be accepted before they even begin practicing their speeches and over half the students who apply do not make it. Speakers need to have a good stage presence, but also have a compelling story that students will be able to relate to.
"In my TED talk, I talked about my journey of going through cancer twice in my life, and how I've learned to remain positive even in the hardest times of my life. I hope that the freshman understood my message that through the hardships in your life, instead of letting them crush you, choose to grow stronger from them," said Sarah Banholzer ('20).
TEDx received overwhelming support from students and teachers who attended the event.
"It [TEDx] made me really interested as a teacher and helped me realize that everyone has something to say. I really liked how it focused on people's talents and challenges, it made it really relatable. I also thought it was a nice break from purely academics, so the students appreciated that," said Amador English teacher, Wendy Hush.
Along with the speakers, the performers had a lot of fun showcasing their talents.
"I have been playing the Guzheng for almost 15 years. I felt very proud after I performed my very own piece of music on it. Before I used to play different masterpieces from famous players, so this year was very special" said Lucy Dou ('20).
The MCs who hosted the shows also played a vital part in the smooth functioning of the event.
"I hosted the first-period event. It went really well, I was a little nervous at first but once I got out there it felt really natural. I've been working with this TEDx show for four years now. Previously I used to do jobs like micing people and filming, but this year I got to host, it was really fun. One thing I really like about TEDx is how we get to get to listen to a lot of unique ideas. It was a blast," said Casper Kardasz ('20). 
This Year's Ted-X went extremely well and was enjoyed by students and teachers alike. It was a great event where students could learn about different people and topics. We can only hope that TEDx Amador Valley continues to be a beloved tradition here at Amador for years to come.