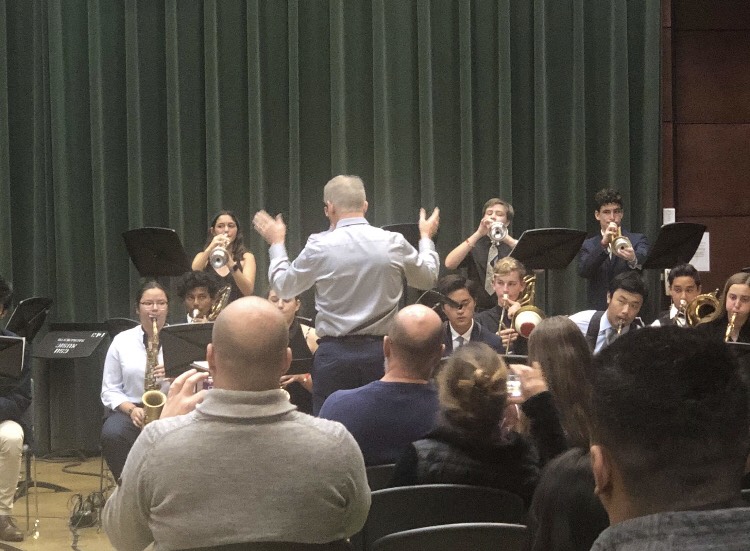 Saturday, December 7, Amador Valley showcased its outstanding music program at the Sacramento State Winter Jazz Festival. Amador Jazz band's A and B and Amador's mixed vocal ensemble performed in jazz clinics for fellow band members, parents, and jazz enthusiasts from all over California. 
The festival emphasized learning and growth for the performing ensembles, and every group received constructive feedback and advice for future performances. 
"I love Sacramento State's Winter Jazz Festival as it is a non-competitive festival that focuses on an educational experience. The clinics are outstanding and give the groups great information, in addition to actually playing to demonstrate and work on the feedback provided," said Amador Jazz Band B teacher, Patrick Dandrea.
The students of Amador's jazz bands had a very positive outlook on the event and seemed to have enjoyed it greatly.
"The experience was really rewarding. The clinician really brought a new perspective to songs we had been playing for a long time," said Jazz Band A member, Myrsini San Marchi ('21).  
Amador Valley's jazz groups have been attending the Winter Jazz Festival for years, and they plan on doing so again in 2020.
"This is a great event that we look forward to each year and kicks off our festival season which continues through the Campana Jazz Festival," says Dandrea.

The Campana Jazz Festival is hosted annually by Amador and will feature all three of Amador Valley's jazz groups: Jazz A, Jazz B, and Jazz Workshop. 
Amador's music program is regarded as one of the best in the state, and Amador's Jazz ensembles will no doubt continue to impress at Campana and beyond this year.